The apartment accent wall program model is growing in popularity—and for good reason. These programs give residents the opportunity to personalize their space to suit their individual style, helping them to create a welcoming environment to come home to everyday. A cozy apartment home with custom colors proves much more desirable than a sterile and impersonal all-white space. Especially when we've all learned what it was like to be in our homes 24/7 during a pandemic – renters are now putting apartment unit features and amenities top of their list from here forward!
Accent wall programs can give your community a leg up over the competition with the added amenity of home customization. It might just be the perfect incentive to get renters who are on the fence to commit and sign that lease that they've been thinking about.
Keep reading to learn exactly how to create an accent wall program and develop corresponding marketing support for your apartment community. Maybe you've started an accent wall program but are having a hard time generating leads, it might be time to take your marketing to the next level. Let us show you how to turn the program into a campaign that gets prospects and residents excited!
Step 1: Designing an Accent Wall Program
To get your accent wall program off the ground, partner with a paint store or specific brand, such as Sherwin Williams, to curate the perfect color palette. Pick between five and seven different shades that coordinate with your existing interior design and complement your community branding. That way, everything will still feel cohesive and aesthetically pleasing while also giving residents the variety of choices they want. 
You'll also need to identify which walls can be painted through the program. Pick at least two different walls for each floor plan. Consider more efficient options like non-windowed walls and be sure to include options in both the master bedroom and the main living space. That way, residents have even more ability to customize their home to suit how they plan to use the space.
Step 2: Accent Wall Program Campaign Marketing
Once you've hammered out the program details, it's important to advertise the offering to entice prospective residents. A well-rounded campaign should spread the offer or message through a variety of platforms – both print and digital. Read on to see the strategies we recommend for building and promoting an effective accent wall program marketing campaign.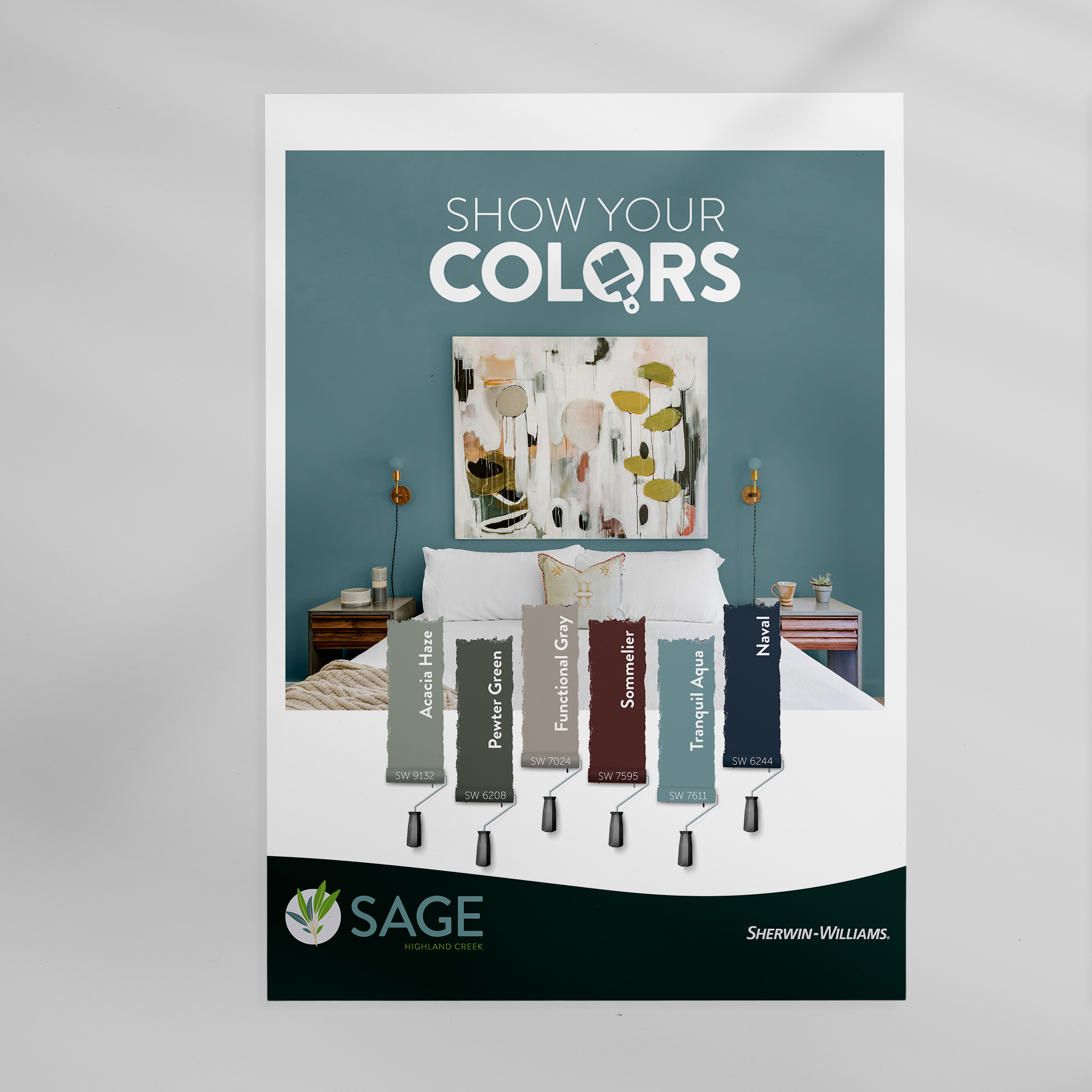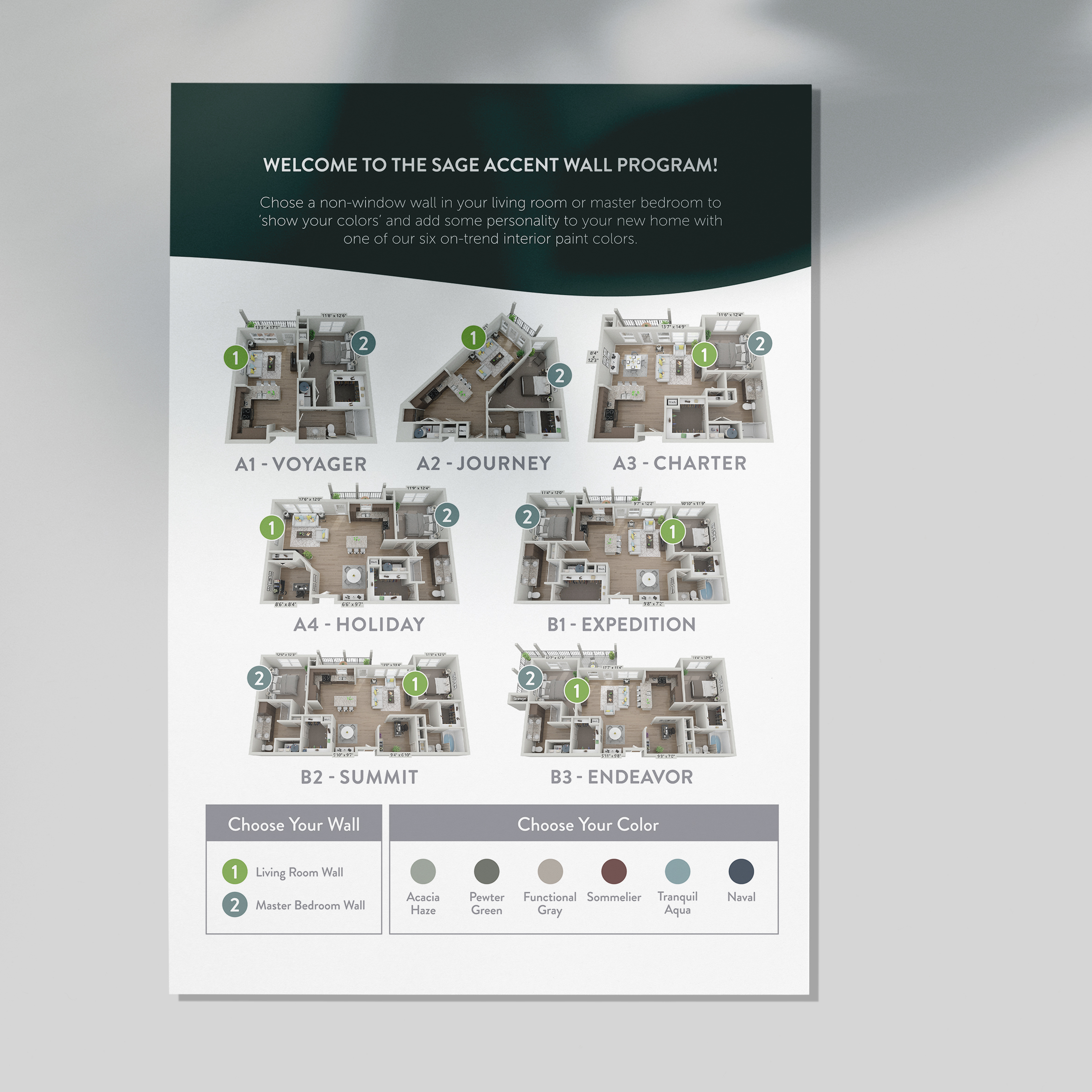 Flyers
Flyers are the perfect way to advertise your accent wall program with prospects, providing you with an easy and informational handout. Create a well-designed flyer that showcases all of the program details and visually shows off the benefits. Include information about the color options available, which walls can be painted, and in which units. That way, prospective residents have a comprehensive understanding of the program when they're viewing different units and can better visualize what their living space might look like. 
Email Marketing
Leverage your lead database to create an email marketing program to showcase your accent wall leasing incentive. Email is a perfect forum to share more about the program thanks to the digital format. You'll have plenty of space to describe the program, show off existing examples, and give prospects an idea of the different colors they can choose from. That way, they have all the details they need and can see what their space would look like once it comes to life.
Consider creating an email marketing automated series instead of a one email announcement. That way, you can utilize a series of three or five emails to generate more interest among leads. They'll get used to seeing your community's name in their inbox which increases brand awareness and, over time, will help you lease-up faster. In the email series, feature the accent wall program, other amenities, property photos, and the most popular floor plans you have on offer to showcase information that will pique their interest and convince them to book a tour. 
Signage
Well-designed and positioned property signage will draw attention to your accent wall program before a visiting prospect even speaks with a leasing agent. Signage can also reiterate the benefits of your incentive program during a tour while helping prospects to visualize making the space their own.
Strategic signs like banner stands and tabletop banners scattered about the property are effective ways to advertise this ongoing promotion. Use the signage to highlight the details of the program—including the color options—to give prospective residents a sense of what their space could look like if they decide to sign a lease. You can even use table tents in the model unit to draw attention to the specific walls that can be painted to emphasize the available color palette and make the program come to life.
Direct Mailers
Though direct mail is can be thought of as an antiquated marketing method, there's a reason it's been around for so long: it works. If your accent wall program is an incentive that sets your community apart from the nearby competition, include direct mailers into your campaign.
From showing off amazing property photos to highlighting the paint colors available through the program, mailers will help you position the program to a broader audience. A custom branded direct mailer design can allow you to showcase the best  your apartments have to offer while helping drive traffic through the incentivized accent wall program.
Working with a professional branding agency, like zipcode creative, will help you strike the perfect balance between text, imagery, and white space to create the most effective marketing possible throughout your accent wall program marketing campaign and so much more. Get in touch today!
Life in Color Featured Image is ©Fairfield Residential  |  Work executed by Stacey Feeney, owner of zipcode creative, while under creative direction and employment at Fairfield Residential.