Signage is a pivotal—and often underrated—way to market your multifamily community. While digital forms of marketing like emails and social media have become the go-to approach for brands and businesses across industries, sometimes there's no replacement for good, old-fashioned signage marketing. Use well-designed signs to attract attention and lease-up faster, all while building a more engaged community. 
When you're developing a signage marketing strategy for your property, be sure to think holistically about where you can leverage different signage styles both inside and outside to drive viewings and showcase your building's best assets and information in a compelling way. 
Exterior Marketing Signage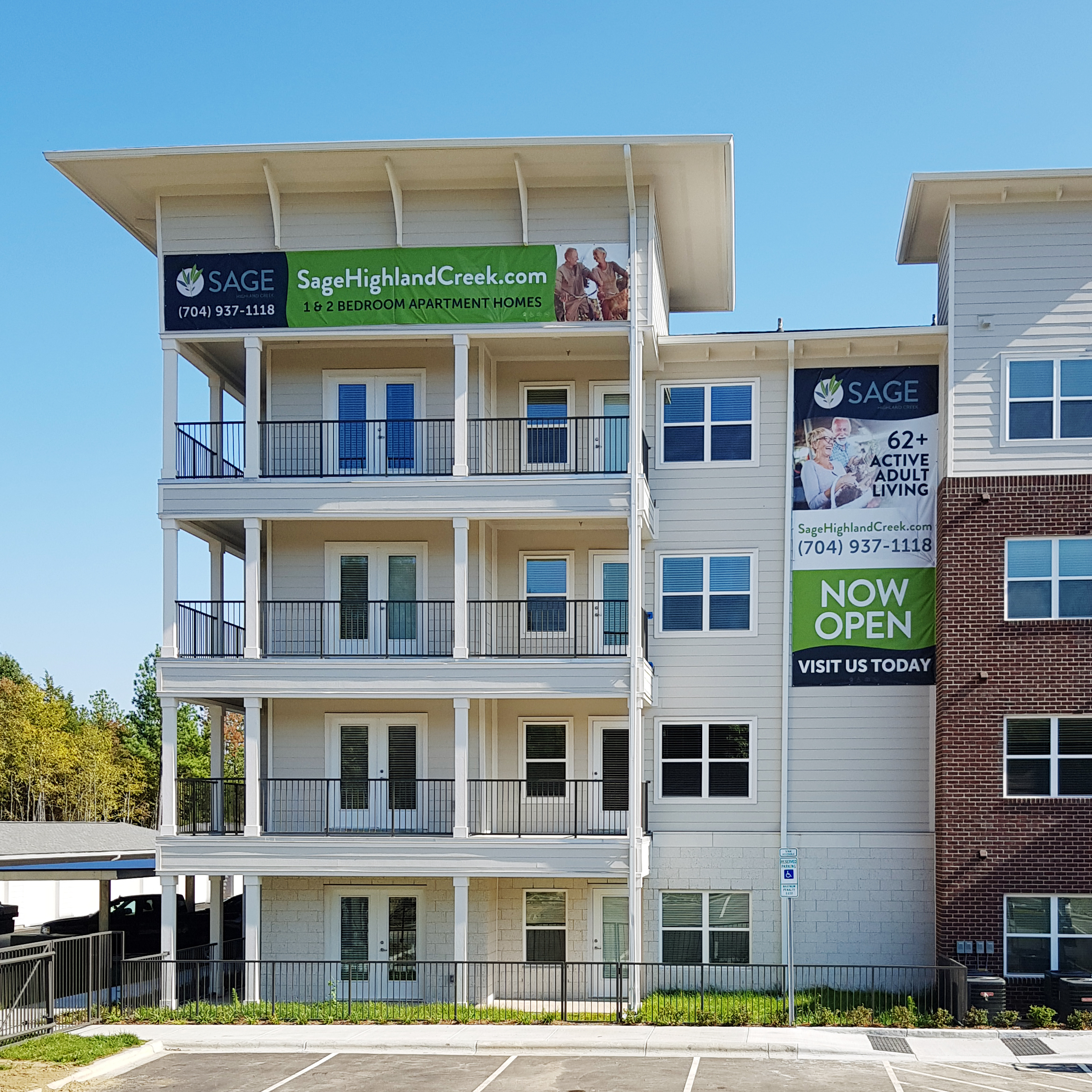 Building Banners
Building banners provide an opportunity to showcase your community and share contact information before anyone steps foot in the building. Whether draped over the front entrance or strategically positioned on the highest-trafficked side of the building, banners are an effective way to get your message to a large number of people, all at once. Be sure to include, at a minimum, your logo, phone number, and website on the banner so prospective residents can easily jot down your info, even on the go.  
Bootlegs/Bandits
Whether you're having a community open house or want to showcase your latest leasing special, bootleg signs—also called bandits or yard signs—are a great way to add a pop of your branding to your landscaping. Perfect for catching the attention of pedestrians walking by or local neighborhood drivers, bootleg signs can be made in different sizes and custom shapes to give you an endless variety to choose from. Keep it simple these signs are often viewed by passers-by on the go so they need to have short phrases that are large and easily readable.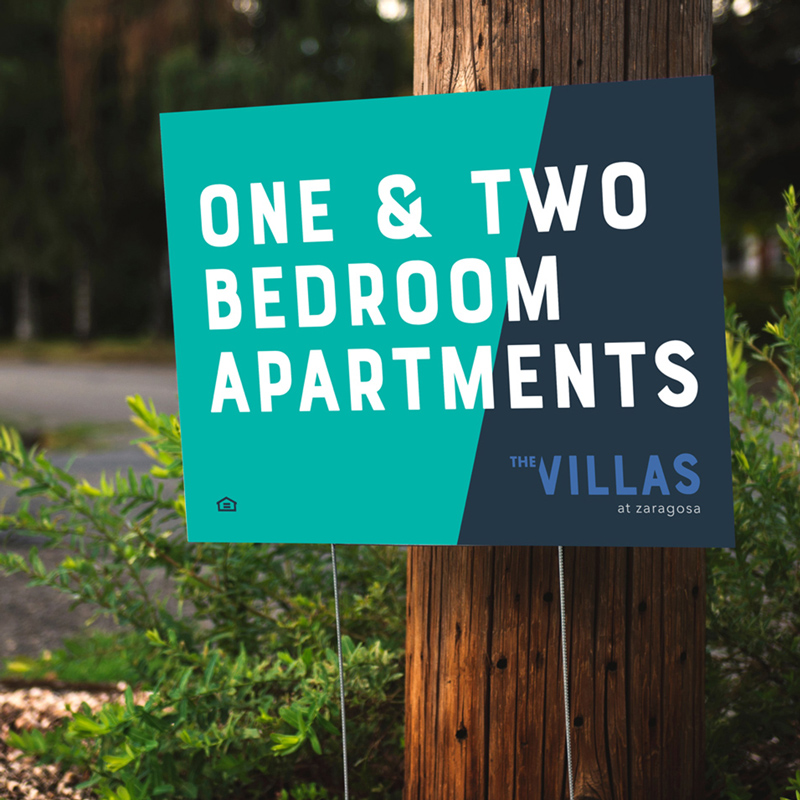 Flags & Boulevard Banners
Create buzz about your community before people even step foot on the property. Boulevard banners and flags are an eye-catching way to promote your available units along major streets or thoroughfares in the neighborhood. That way, people will begin to recognize your branding and you can pique their interest, all thanks to foot traffic alone. 
Add your best property photos, showcase your top amenities, and highlight your logo to create compelling content for your banners that will get your community noticed. 
Directional Signage
If you're looking for a fast and easy way to direct prospects to the leasing office or give guests a better way to navigate to the parking garage, directional signage is your new best friend. Typically designed with a combination of arrows and text, this versatile sign style can be made in your specific brand colors to ensure it blends effortlessly in with the rest of your marketing signage—all while still acting as a functional tool for your residents, their guests, and prospects who visit the community. Use any size and sign format to accomplish your directional needs.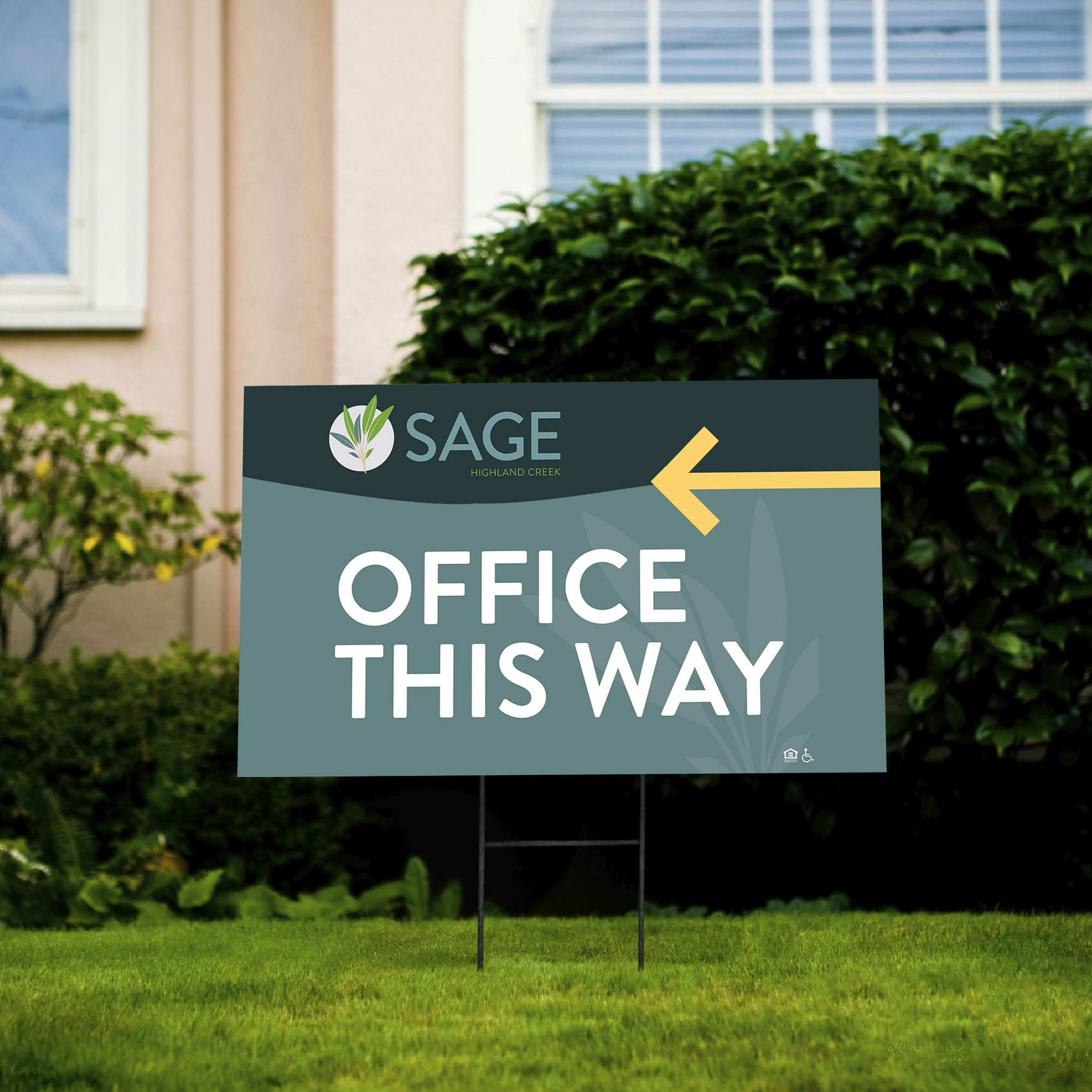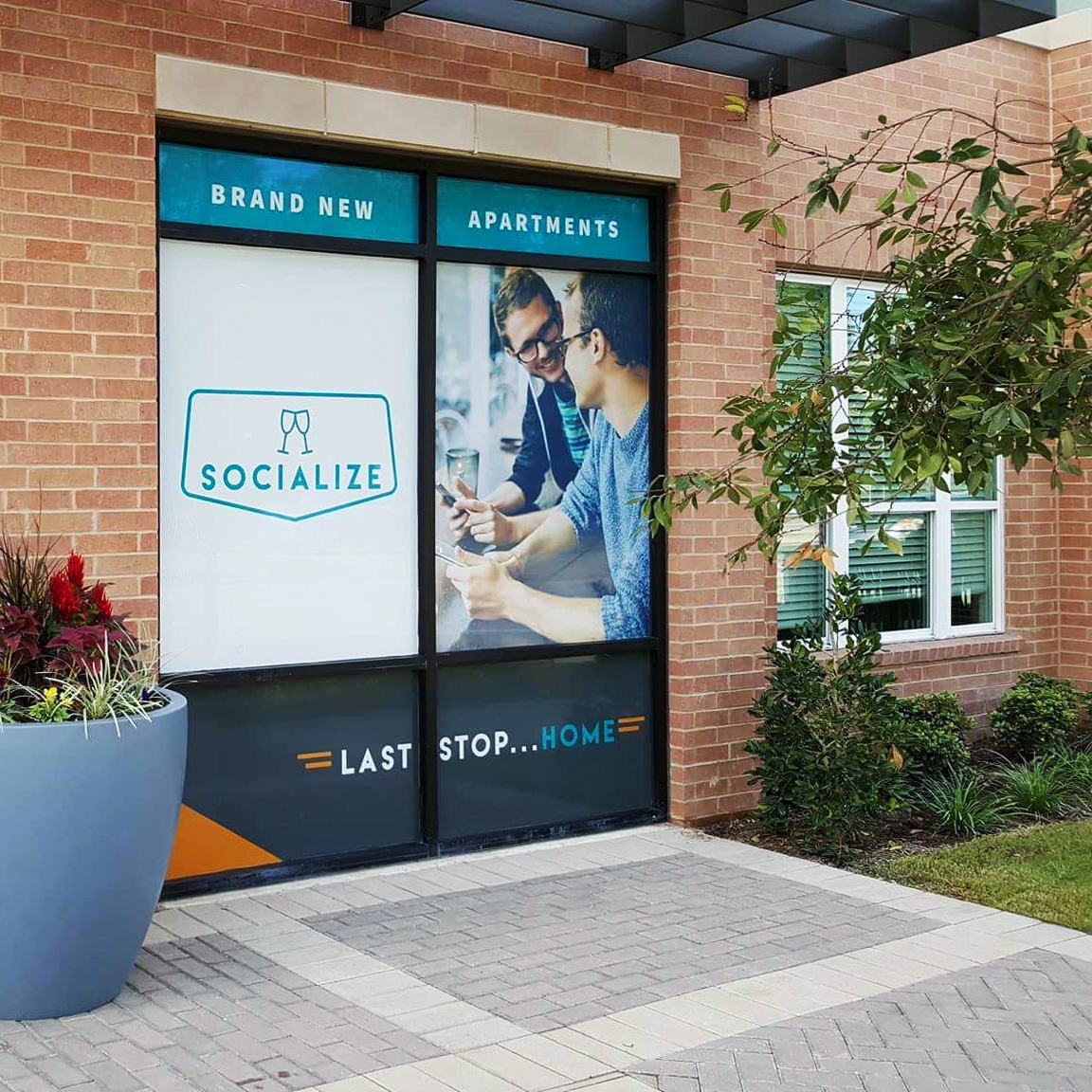 Window Clings
Take advantage of the large window real estate you have and fill them with custom window clings for a large and impressive approach to marketing signage. The beauty of this type of signage is that the material used – it shows the design from the exterior view but allows visibility to the outside from the interior, similar to a two-way mirror! This signage strategy works especially well for urban apartment communities.
Interior Marketing Signage
Banner Stands
Banner stands are the perfect set-up-anywhere signage solution for your entire community. From the lobby to the gym to your model unit, you can easily add a banner stand to almost any space. Use them to welcome prospective residents who have arrived for their tour, display your community's best features and amenities for visitors to see, or use them to promote a program or initiative you offer, like being a pet-friendly place to live.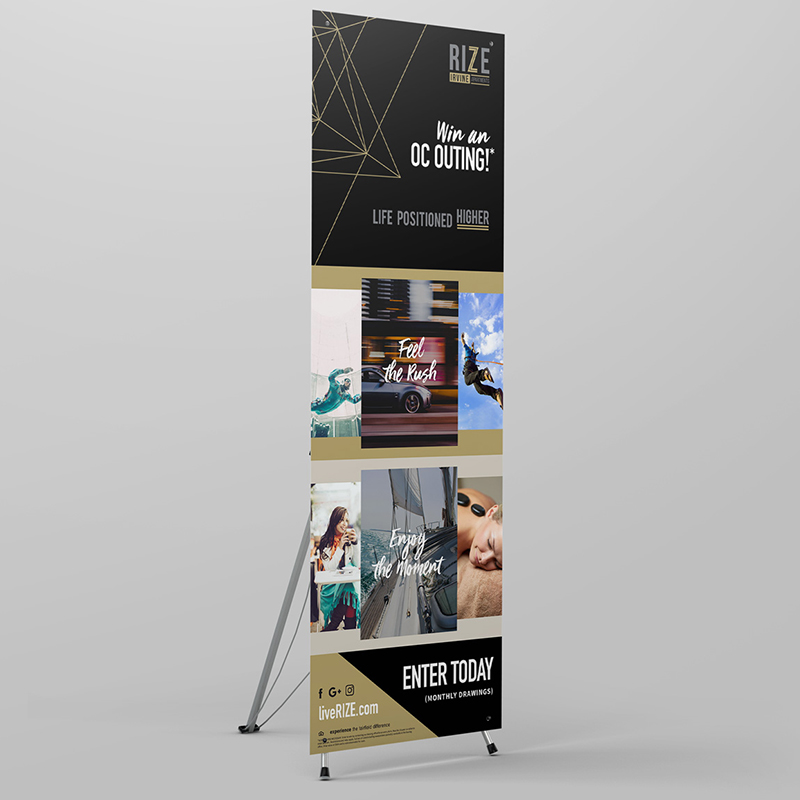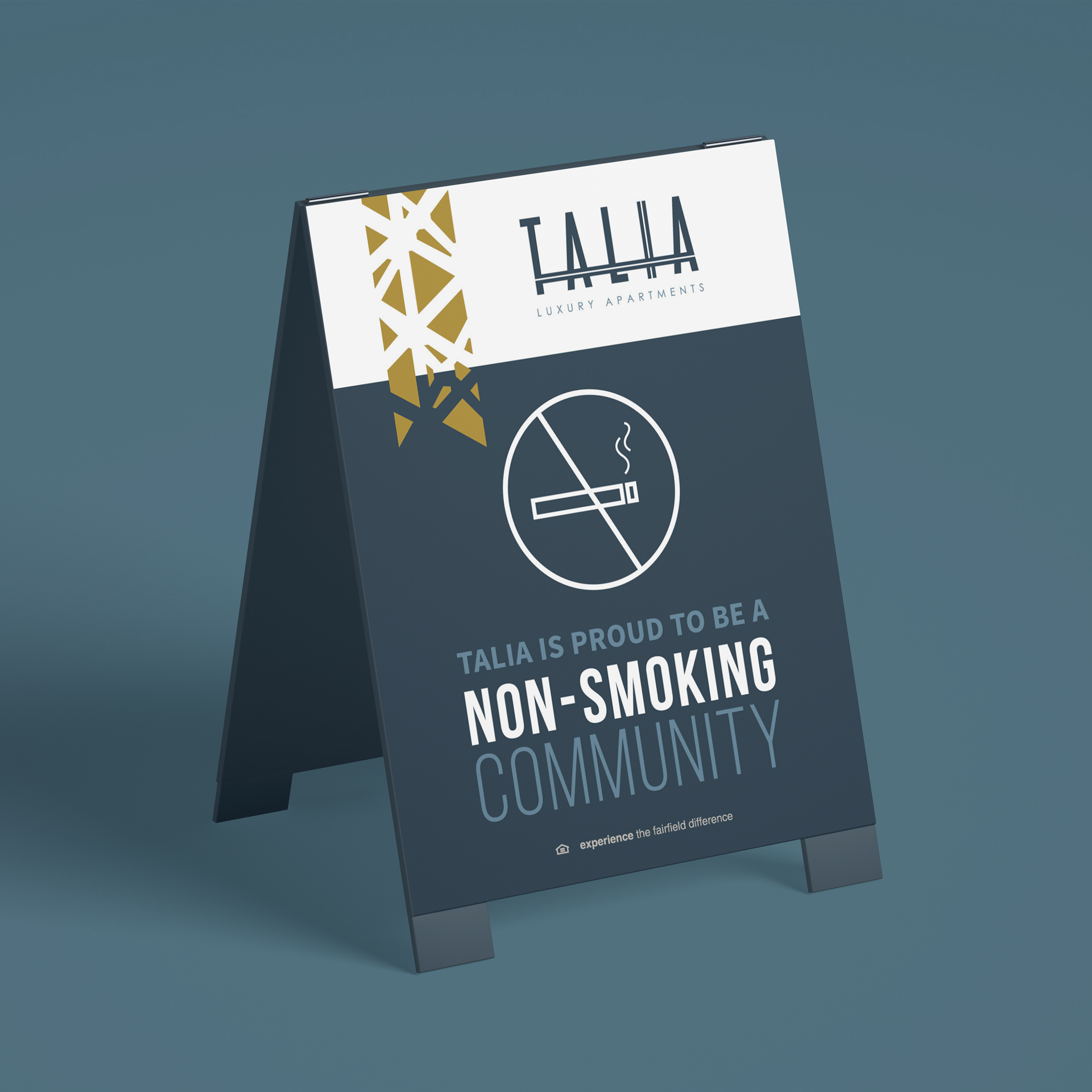 AFrames/Windsigns
Commonly called "sandwich board signs" these self-standing one or two sided signs can be great for placing right outside or inside the leasing center entrance doorway for quick reference information such as office hours, contact information when the office is closed, directional purposes to find the leasing office or an announcement of open house or other event.
Table Tents 
Table tents are a must-have to show off elements of your model unit to prospective residents. As an affordable solution for self-guided showings, you can call out different finishes in the kitchen, apartment amenities like a washer and dryer, and community amenities like a gym or rooftop deck with table tents. Even without a leasing agent, prospects will feel like they get a holistic understanding of your community. Plus, as an added bonus, they are an effective way to showcase brand consistency throughout the community.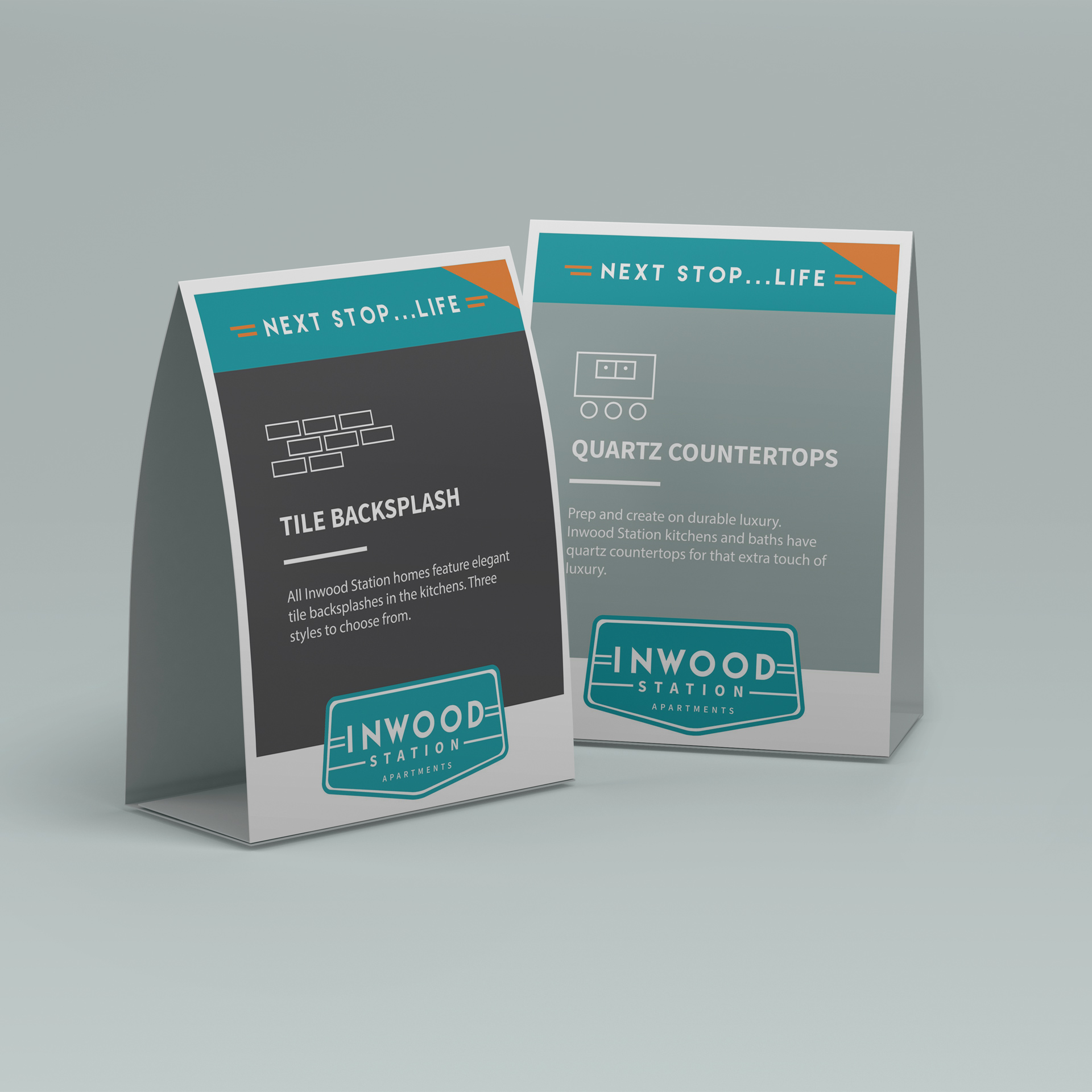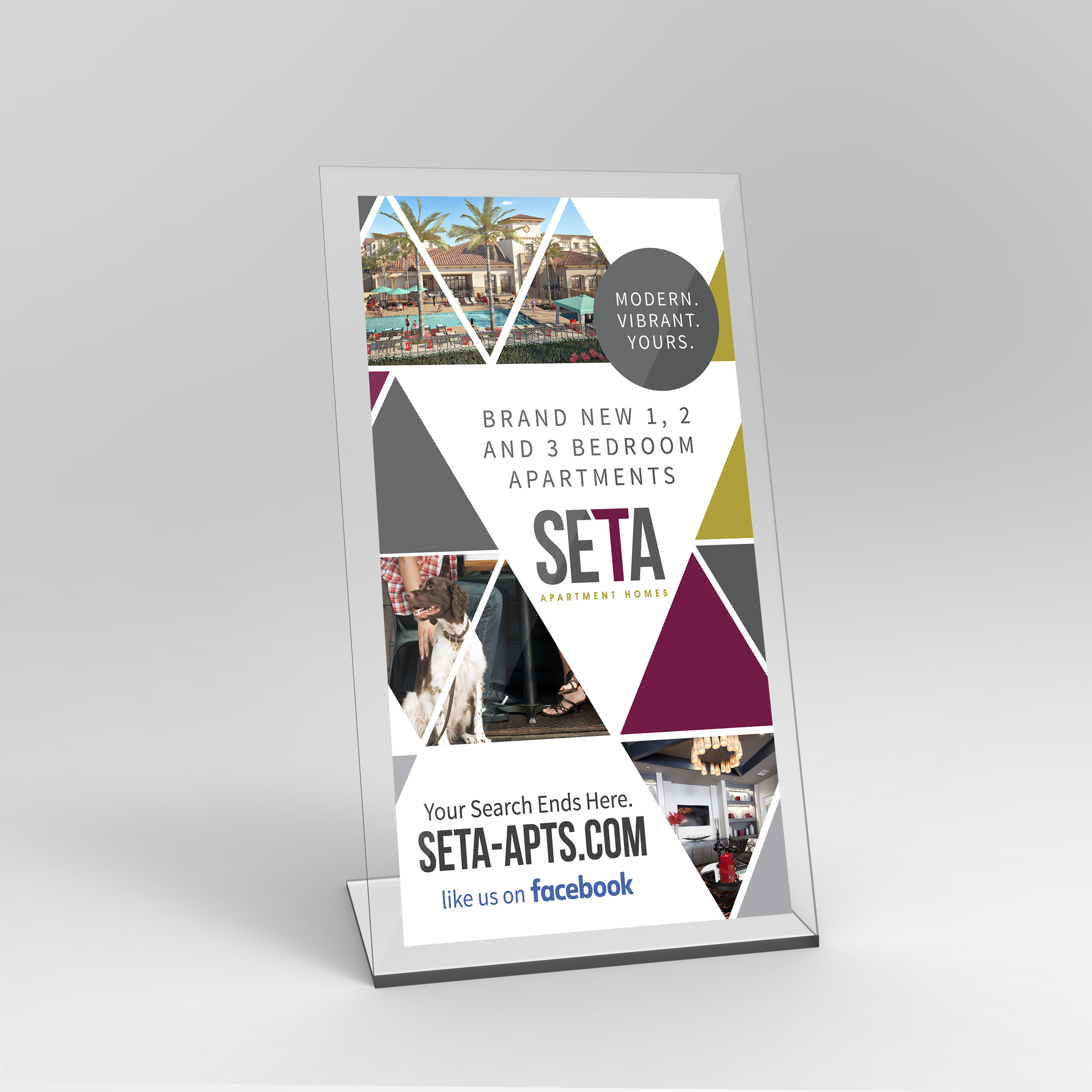 Table Top Banners
Table top banners are a versatile way to promote your property. From a coffee bar in the lobby to a towel station in the gym, you can pepper them in several different spaces to advertise any upcoming events and increase resident engagement. That way, everyone is always in the know and you can help foster an engaged community without a lot of extra added effort. Make sure you are utilizing a variety of sign types and placements for a well-rounded and effective signage marketing campaign. 
If you're ready to take your signage to the next level, a branding agency like zipcode creative is the perfect resource. As an expert in multifamily design, we can guide you on how to leverage your branding and how to create a cohesive marketing signage strategy throughout your property to help you accomplish your goals and make a positive impact to your bottom line. 
Contact us to see examples of custom branded signage design.
Images in this article of ORA, Talia, Rize, Seta and Inwood Station are ©Fairfield Residential  |  Work executed by Stacey Feeney, owner of zipcode creative, while under creative direction and employment at Fairfield Residential.