Is it better to get the job done or not do it at all? Consider outsourced branding, for instance. Even if you don't typically turn to an outside agency for help, you may eventually find that your marketing team is slammed. That's when outsourcing the work could be just the thing you need.
Why Should I Be Outsourcing Branding For Multifamily?
BENEFITS
If you've never outsourced branding before, it might sound a little scary. According to Hubspot, "the best time to outsource [marketing] is when internal talent is stretched thin and in-house teams are struggling to get campaigns over the line." There are quite a few benefits to outsourcing some of your (or most or all—we're here to help, not judge) marketing for multifamily to an outside agency.

The best reason why you should be outsourcing branding for multifamily is, at its most basic, a good business decision. It can help you:
Expand coverage

: If your team is slammed and there's no one to take on extra work (see also: emails from the boss that begin with "We need to get new signage up on-site for takeover and we close on Friday!"") This means that you can say "yes" because you've got someone to turn to for those last-minute projects…or you can offload something else to an agency so you can tackle the things that are due sooner. Having a backup team gives you not only the capability to prioritize, but also the ability to keep saying "yes" to whatever pops up in your inbox. Here's to a bigger bandwidth.

Extend capabilities:

You've got talent on your team, but they may not be able to complete the job in the way that it needs to be. Some skills like branding design and copywriting take time and experience to get right, and you don't have the luxury of either. In that case, outsourcing can extend your capabilities and give you the ability to create even more beautiful things.

Bolster your brand:

Making things pretty is what we do at zipcode creative. We know that it takes a lot of focus and time to really make your brand shine. And when we work as an extension of your marketing team, we make sure that everything looks fantastic.
Stretch your budget: Hiring full-time creatives for your staff can't always work out. Calculate the cost of a full-time graphic designer, copywriter, social media manager, ad specialist, plus their benefits and you'll see some red on your bottom line. Hiring for those roles isn't necessarily realistic for every company. We'll step in and be an extension for whatever you need.

Best Things to Outsource

IN-HOUSE TEAM
What are your current in-house team's capabilities? Where could they really use help? What are they constantly pushing deadlines out on? Start with the squeaky wheels—the areas where you need more time, more help, or more expertise, and outsource branding to an agency.


WHAT WE CAN HELP WITH
Sometimes, you need a list to run down and see what needs to be covered. Here's what zipcode creative can cover when it comes to outsourced branding in the form of a checklist to help you maximize efficiency in your marketing department.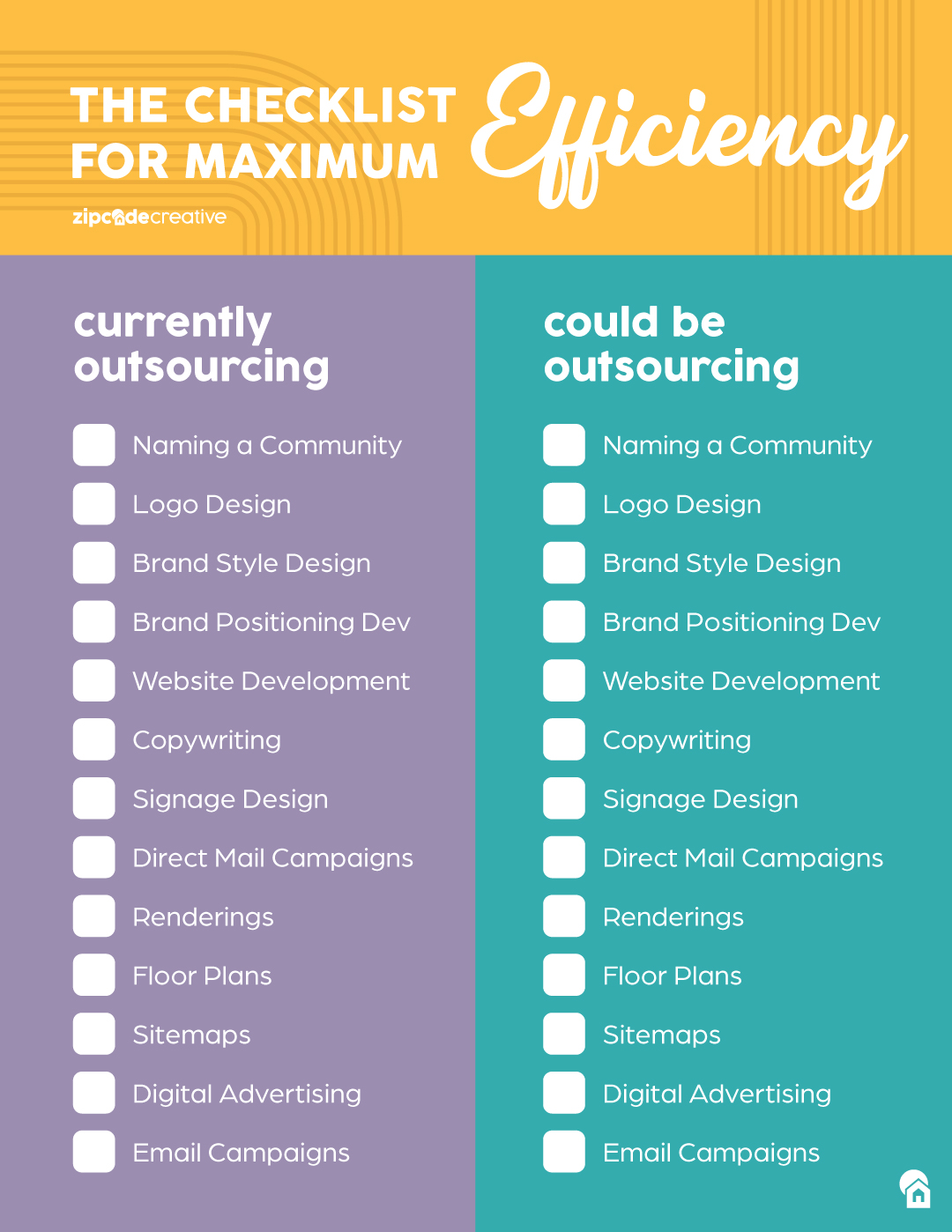 Why Outsourcing Branding Could Work
It's tempting to avoid outsourcing your marketing for multifamily. Keeping it in-house seems cleaner, less risky, possibly cheaper. But there's a ton you could be missing out on, if you outsource with trusted partners:
KEEP YOUR FOCUS
Now you can focus on the essential responsibilities within your role instead of being spread too thin and worrying about getting it all done on time and done well. If you have a marketing team that's running strategies to increase occupancy, resident events, social media, managing public relations, and crafting the next campaign, they probably don't have time to create a mailer for your lease-up special. Don't make them do that, too. Let them keep their focus on the big picture, and outsource the graphic design of a few marketing collateral pieces.


PLAY TO STRENGTHS
Graphic design, for example, isn't everyone's specialty. Maybe digital ads are, though. Find what you're good at, and absolutely nail it. For brand messaging: voice, and persona, and for graphic design: logos, palettes, fonts, and related marketing pieces (and more), let someone help you. Wherever you're going to spend more time learning how to do it, and then doing a C+ job, hire someone else. (And stay away from Canva.) We've got our specialty—we make things look pretty!—and you've got yours. Nothing wrong with learning, but sometimes it's faster and easier to stay in your (multifamily) lane. Bottom line here: The best work being accomplished toward your marketing efforts and goals happens when you play to your teams (and your) strengths, and you allow your contracted partners to do what they do best, as well.
BRAND CONSISTENCY
If you have a brand style guide, awesome. If everyone on your team follows it, even better. Those colors, fonts, logo options and graphic design rules are there to keep things consistent. But we've got even better news for you: When you partner with an outside agency, we'll be even more strict about brand consistency, because we have no reason to do otherwise. After all, consistency and cohesiveness is our number one goal as an agency, aside from creating attention grabbing messaging and visuals, of course!
FRESH PERSPECTIVE
Maybe your marketing team can't get it all done, and you've had to reach out to a partner agency to help you make it all happen. That's totally okay, as long as your partner is good! You've been looking at the same palette, logos, amenities, layouts, for a little too long. But outsourcing also gives your team the opportunity to see something new—a creative vision or opinion or idea. Now, a new set of eyes can see something you might have missed all along. 
That's completely worth it.