During the warm-weather months, there's nothing as relaxing as enjoying the sunshine and soaking up some vitamin D. Reframe your marketing to give your outdoor amenity spaces a leg up—since it's what prospects and residents are thinking about! 
If your community has outdoor amenity spaces like event lawns, a pool, or grilling areas—or even private outdoor areas like patios—it's important to weave these elements into your summer marketing strategy so that prospective residents can see everything you have to offer. From lounging by the pool to picnicking on the common lawns, the outdoor lifestyle they could lead in your community is an important differentiator. Try using these tips and tricks to focus on summertime seasonal amenities to make your community feel irresistible amongst the competition.  
Summer Swag
Developing seasonal swag is an amazing way to highlight specific outdoor amenity spaces. If you have a pool, for example, consider creating beach towels as a move-in gift to enhance their experience If you have a grill area, you could create outdoor dining accessories in your brand colors and accented with your logo. Similarly, tennis courts pair well with branded tennis balls, and outdoor dog runs are the ideal opportunity to create pet-friendly swag like leashes or portable dog bowls. While prospects are evaluating their future living situation, these pieces showcase not only your community's amenities but also your thoughtful approach to resident engagement.
Local Partnerships
If you want to branch out and reach new prospective residents, partnering with local businesses can be an amazing way to expand your audience. Consider teaming up with local bars or restaurants to host events in your outdoor space. From a concert series to weekly food tastings to happy hours, it will allow you to solidify yourself as a staple in the community—and it also allows you to showcase the beautiful amenity spaces you have to offer. While not everyone who attends may be looking for a new place to live, it's an amazing way to generate positive word of mouth and get the word out there about your community.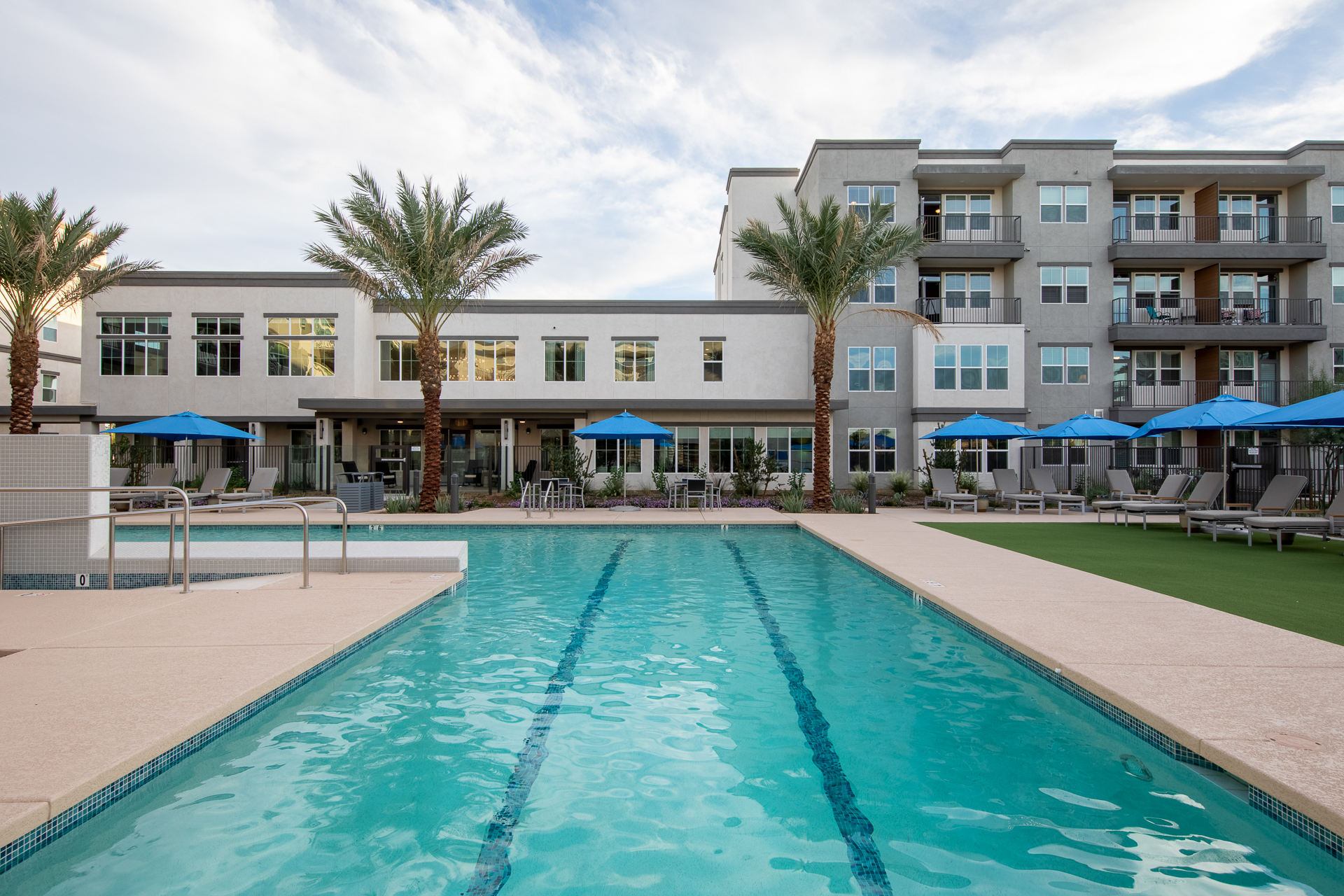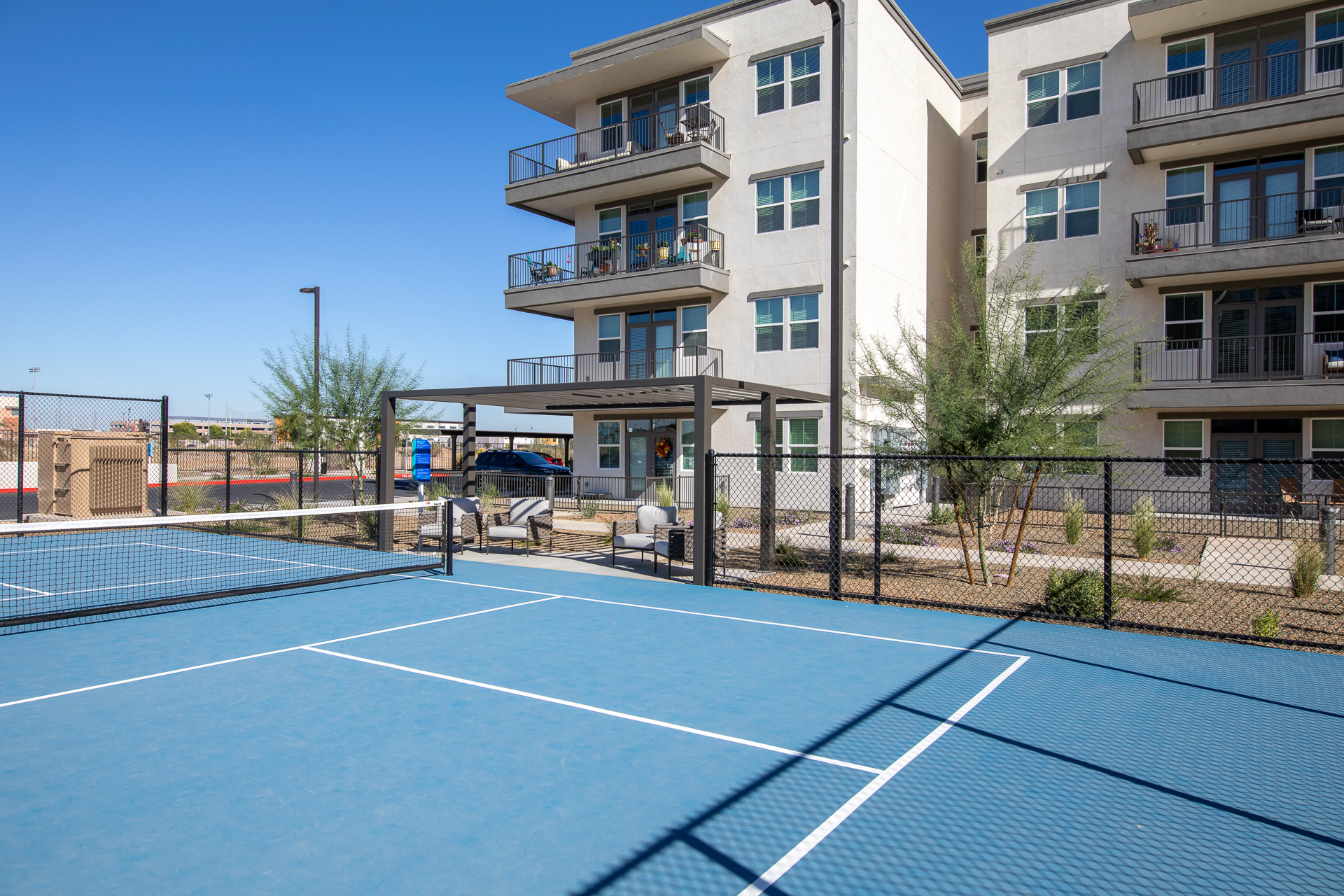 Prospective Resident Events
Hosting prospective resident events, like happy hours or cookouts, at your outdoor amenity spaces allows you to not only answer all of a prospect's questions but also show off your outdoor area at the same time. You can even combine these events with existing resident events to allow prospects to mingle with your current residents. This will allow interested parties to get a feel for the lifestyle and demographic of your community and gauge whether it's a good fit for what they're looking for. The best part? Instead of doing dozens of individual apartment tours, you can host a large number of prospective residents at once to generate a higher volume of warm leads. It also helps to keep existing residents engaged for a win-win way to market your amenities.
Seasonal Marketing 
While you likely have evergreen marketing assets like a brochure or direct mail postcards, why not change it up for the summer months? Revisit both the copy and design elements of your existing marketing materials to give them a summer spin. Feature eye-catching photos of your outdoor amenity spaces, like your pool or barbecue area. Be sure to also infuse your copy and content with summer-themed language, like "Make a splash!" or "Fun in the sun." These small changes will help set your marketing apart from local competitors and help to re-engage prospects that may have gone cold. If it's in your budget to do so, create a leasing incentive and turn it into a summer campaign!
No matter how you choose to showcase your outdoor amenities, now is the time! This peak warm-weather season marks the most popular time of year to move, so highlighting all of your outdoor amenities can help distinguish your community from your nearby competitors.
If you need help crafting your materials or figuring out where to start, our expert team at zipcode creative can help. From developing distinctive branding to overhauling your direct mail materials, we can give your marketing a polished, professional look. Reach out today to learn more about what our team can do.