When it comes to getting word out about your apartment community, marketing through print and digital advertising is the name of the game. By developing a thoughtful marketing strategy, you'll be able to build brand awareness, generate interest, and convert prospects into residents. Any good marketing strategy is not complete without ads. From classic ad types like newspaper ads to more modern alternatives such as pay per click ads, the ways you can advertise your community are nearly endless. Learn more about the different ad types and how to craft compelling ads to maximize your apartment marketing efforts.
Print Ads
Local Newspaper
When it comes to print advertising, there's nothing more well-known than newspaper ads. There's a reason this classic ad option is still used—because it works. When you place an ad in a newspaper, you'll reach a large audience all at once to cast a wide net. Plus, newspaper readers trust the publication, so there's a built-in level of trust for your brand, too. This helps build brand awareness and drive interest to help you lease-up faster.
Magazine Ads
Advertising in your neighborhood magazine is a traditional and effective print advertising option. Placing ads in these types of periodicals is an easy way to get a lot of eyes on your advertisement, and using high-quality images and attention-grabbing headlines can help to drive a lot of interest in your community. This approach typically works best for the senior living demographic.
In addition to local publications, consider advertising in trade publications, too. Look into what publications are circulated in your area to identify some out-of-the-box advertising opportunities that will drive brand awareness and generate additional interest in your community. 
Direct Mail 
Instead of placing an ad in a third-party publication, you can also create your own. Opt for direct mail pieces, like postcards or flyers, that help you to build awareness, generate interest, and promote upcoming events.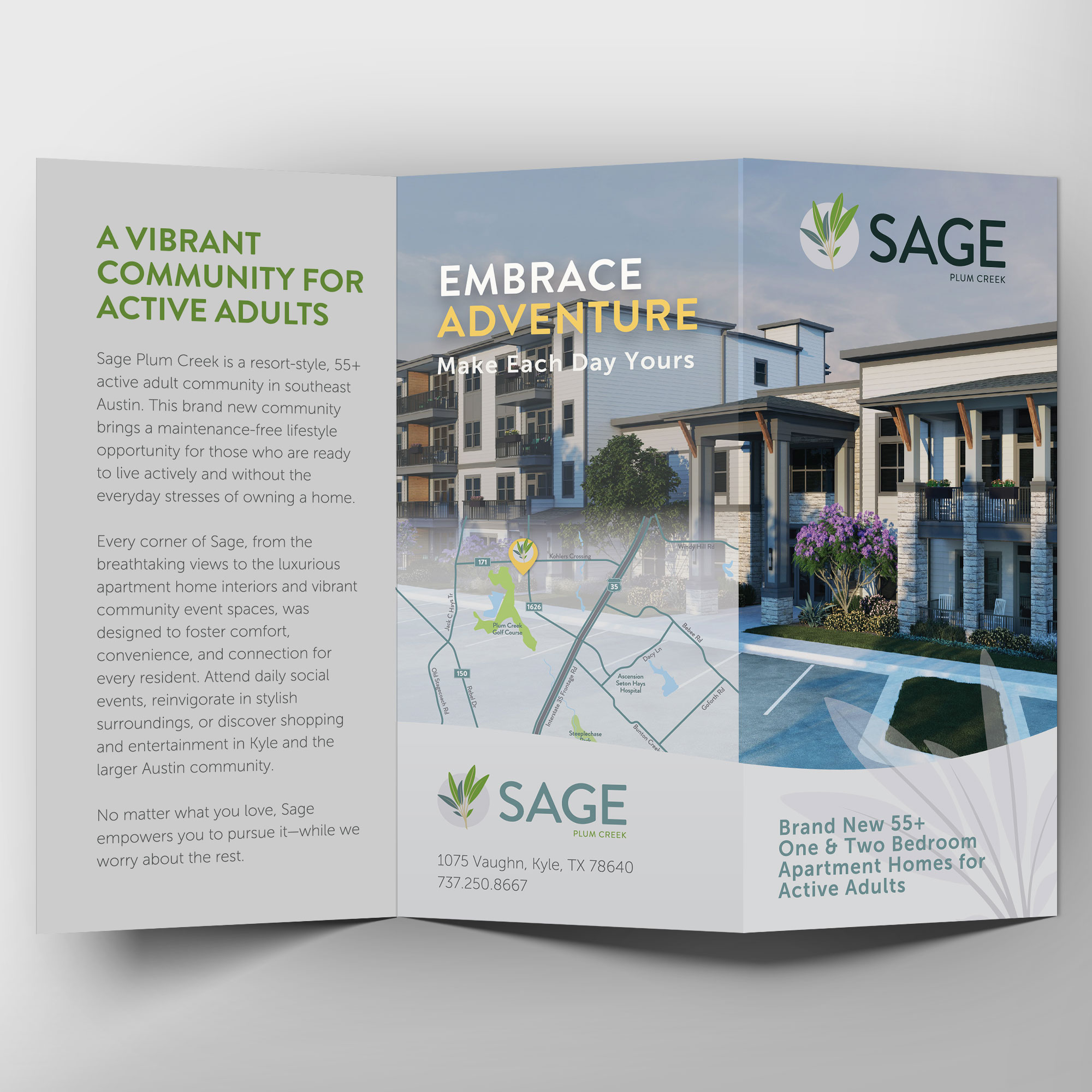 Brochures 
You can also hand out brochures to prospective residents that showcase everything your community has to offer. From full booklet brochures to smaller gatefold alternatives, there are nearly endless options for your brochure design. That way, you can create a design that caters to your specific audience. Consider this your long form of print advertising.
Designing an Effective Print Ad
Print ads give you the opportunity to showcase your community in a creative way. From clever copy to breathtaking photography, you can create an eye-catching ad that will attract attention. When designing your ad, be sure to include:
Property photos, especially of kitchens or pools

A short "about" paragraph

Condensed amenities list – the top most desired

Contact information

Ongoing promotions

A call to action, such as "schedule a tour"
Be sure to also include information about the units you have available, whether that's one-, two-, or three-bedroom apartments. If you have space, print ads are also an amazing opportunity to use lifestyle photography, giving prospects a better sense of what it might be like as a resident. 
Remember to design your ad with your apartment's branding in mind so that your ad is cohesive with all of your other marketing materials. 
Digital Ads
Display Ads
Display ads incorporate images, text, and video to create a multimedia digital advertising experience. Display ads can take many forms, from banner ads at the top of a website to video ads on YouTube. These digital ads can display on a wide range of websites, helping to increase your reach and drive interest from a wider range of potential residents.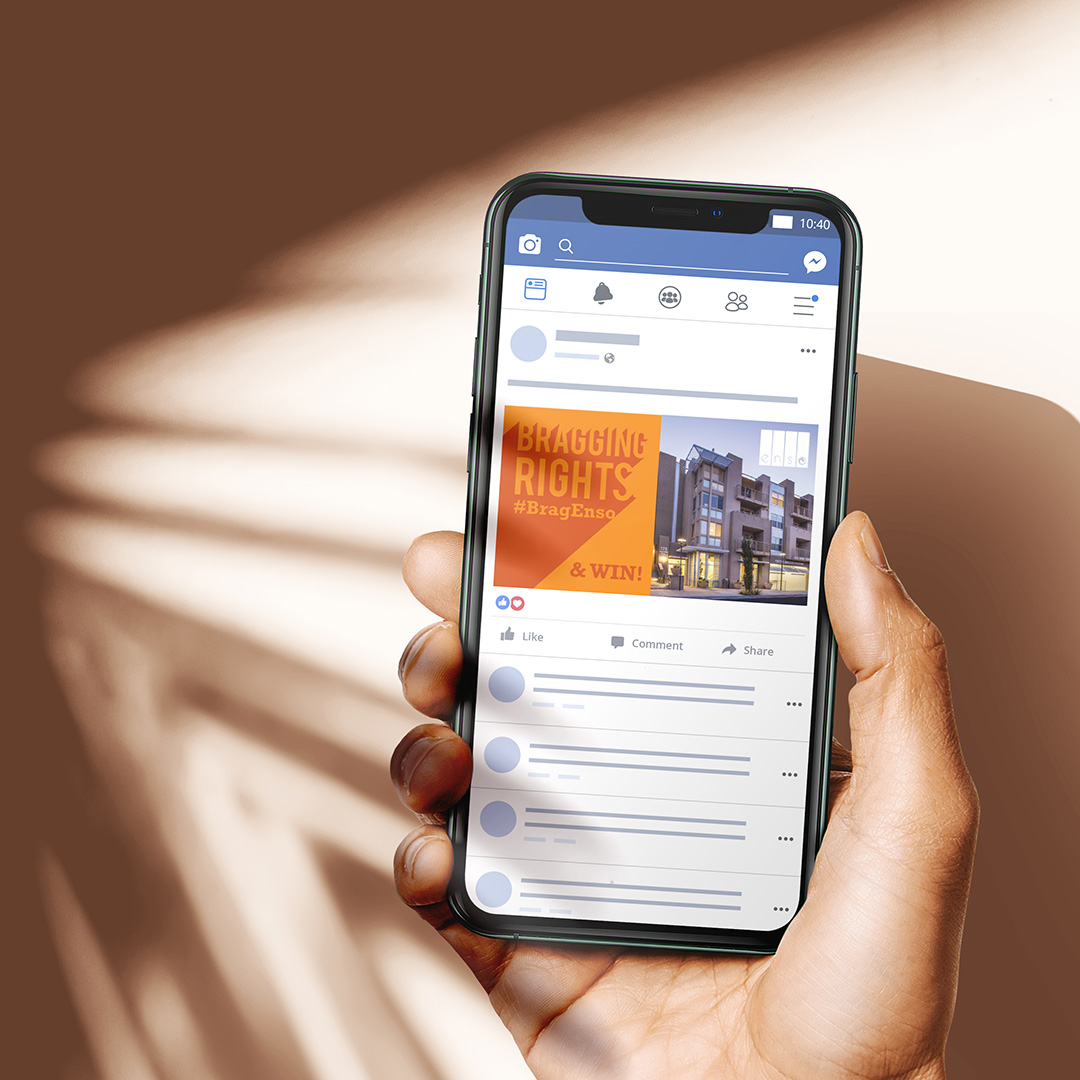 Social Media Ads
Social media platforms like Facebook, Instagram, LinkedIn, and Pinterest are known for their engaging content, but they also offer advertising opportunities for businesses. You can set your ads to run specifically for your defined target audience to drive even higher engagement and reach those who are more likely to convert. No matter if you're trying to increase brand awareness or drive people to sign up for an on-site tour, social media advertising helps you connect with prospects at every stage of the sales funnel for a versatile and flexible option.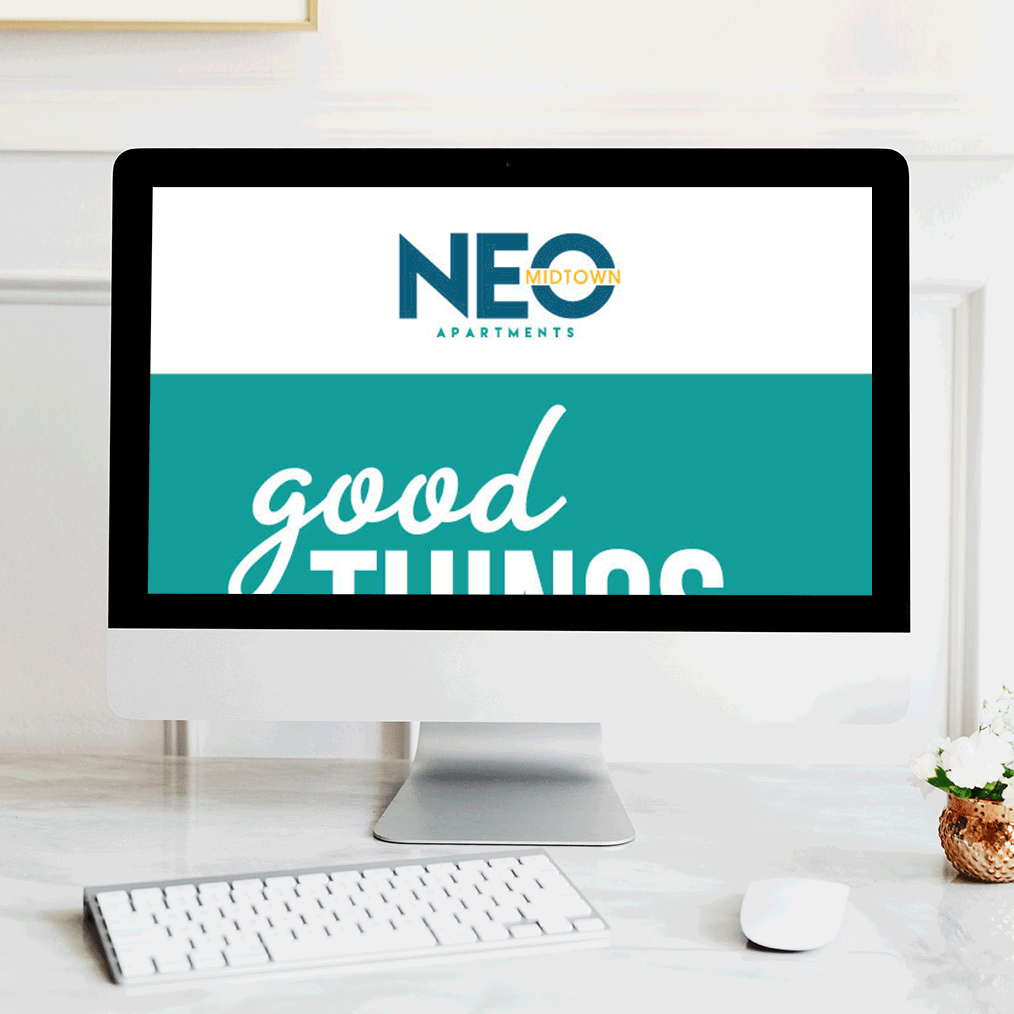 Email Marketing
Instead of buying ad space through online publications or social media platforms, create your own email marketing campaign to market to the leads you already have. This allows you to totally customize the look, feel, and message of your emails for an eye-catching final result that helps drive leases.
Designing an Effective Digital Ad
Digital ads are often very small, so it's important to develop thoughtful designs. This ensures that people can easily read and digest all of the information in the ad with just a glance. When designing digital ads, there are a few key elements you should always include:
One property photo

Your logo

Short line of text or your tagline

A call to action
When writing your copy and call to action, be sure to define what your community is—especially if the word "apartment" isn't in your logo or featured in your photograph. This will help prospects instantly understand what you have to offer. 
You should also spend time on your call to action. Make it concise, clear, and to the point. Choose something like "Tour today" or "Learn more" and link prospects to your website. That way, they always know exactly what you want them to do next. 
If you're struggling with your print and digital advertising designs, expert designers like zipcode creative can step in to develop an effective ad campaign that will help you drive ROI and make your ad placements more effective. Contact us today to learn more! 
ENSO Bragging Rights & NEO Apartment Designs are ©Fairfield Residential  |  Work executed by Stacey Feeney, owner of zipcode creative, while under creative direction and employment at Fairfield Residential.