Does even thinking about marketing your community make your palms sweat? If you get easily overwhelmed when you think about all of the possibilities, there's an easy and effective place to start: an apartment marketing brochure to showcase your community and drive in leads.
Instead of shelling out all of your budget on flashy marketing tactics, a brochure is a proven option that will help you convert prospects by showing them all your community has to offer. It's a great option for a tangible keep-sake for visiting prospects and a great first introduction to those browsing online.
WHY HAVE AN APARTMENT MARKETING BROCHURE
For multifamily communities, marketing is an integral element that ensures your building leases up quickly and retains residents. From digital channels like email marketing and social media to printed materials like business cards and flyers, there are nearly endless possibilities for how to market your property. But there's one piece of collateral that you can't go without: a marketing brochure.
Brochures, whether printed or digital, are the perfect way to give prospects a high-level overview of your property. Gorgeous photos of your amenity spaces, floor plans, and everything in between all can go into your apartment marketing brochure to provide a ton of information in a small package. That way, prospective residents don't feel overwhelmed by dozens of sheets of info or multiple links, and instead can learn all of the most important info on your community, all in one concise place.
TYPES OF APARTMENT MARKETING BROCHURES
The best part about brochures is that they are not one-size-fits all. The style and format is flexible enough to accommodate different communities, ensuring you can always find one that works for your community and your budget.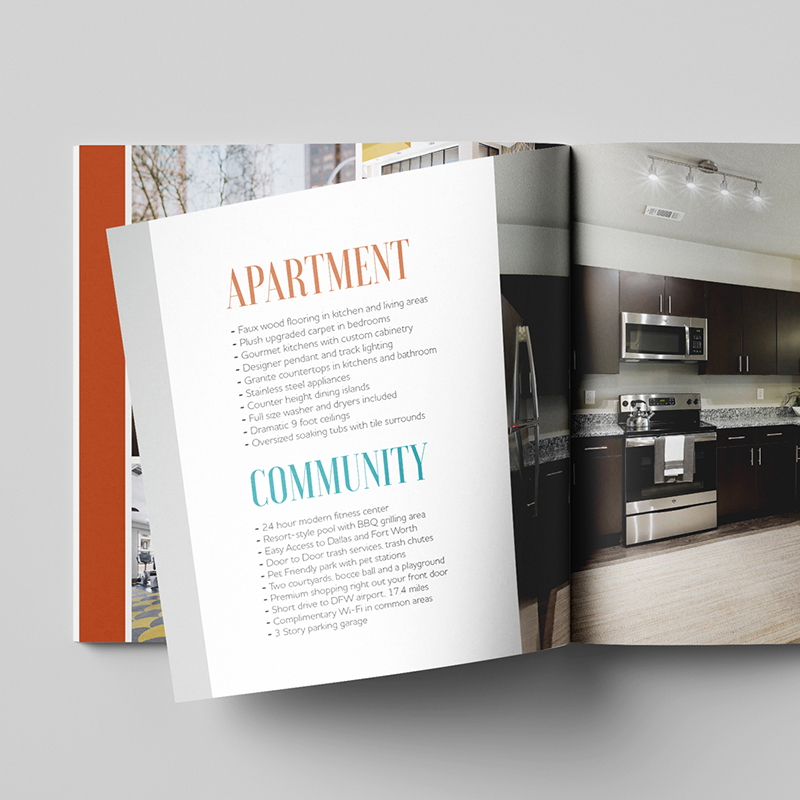 Booklet Brochure
If you want to provide a comprehensive way for people to learn more, a booklet brochure is your best bet. This bound style can have as many or as few pages as you need to provide more details about your community. You can even include multiple pages to highlight each different aspect like floor plans, the neighborhood, and more. The size and shape are completely flexible with a booklet apartment marketing brochure, rectangle, square, horizontal, vertical – dealer's choice!
Trifold Brochure
Trifold brochures are a classic for a reason. This rectangular style is folded twice over the center section, resulting in six different sides while opening up to a standard 8.5×11 sheet of paper. With a trifold you have plenty of space to share more information about your community, and can even designate different panels to different focus areas, so they each get the spotlight they deserve.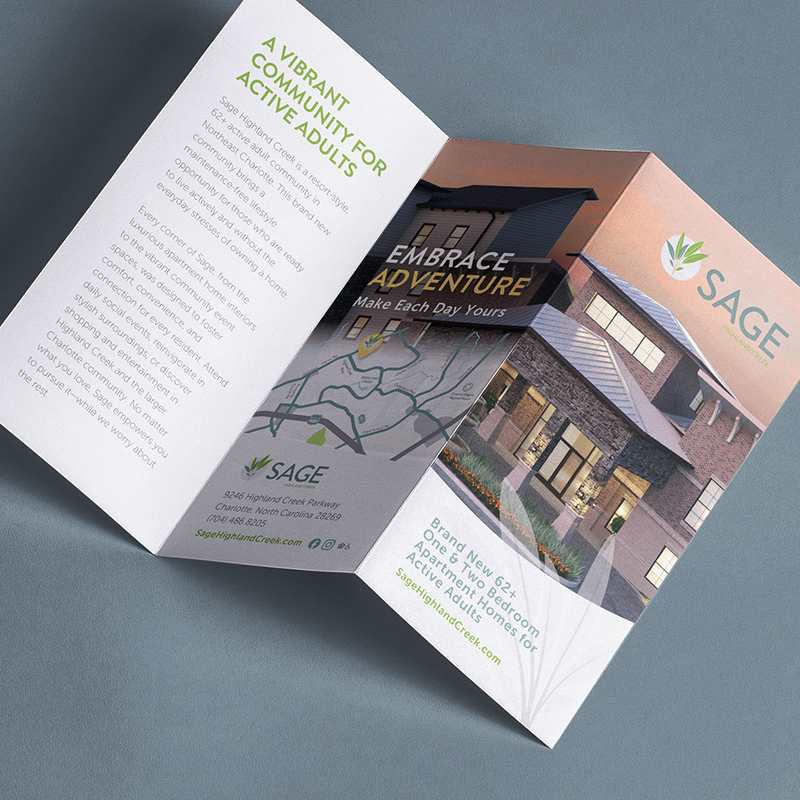 Gatefold Brochure
A gatefold style is made up of four folded sections, resulting in an eight-panel brochure. The paper used is the same size as a tri-fold, but simply folded differently to create additional panels or sections. This way, you have several pages to showcase different elements of your community, so you can emphasize the most important details.
Bi-Fold Brochure
If you want to keep things short and sweet, a bi-fold brochure is the perfect option. This style has four larger sides—a front and back cover and two inside pages (still totaling a standard sheet of a paper when unfolded like a trifold and a gatefold) —so you can give a high-level overview of your community's most eye-catching amenities, pricing and floor plans, and enough information to pique a prospect's interest.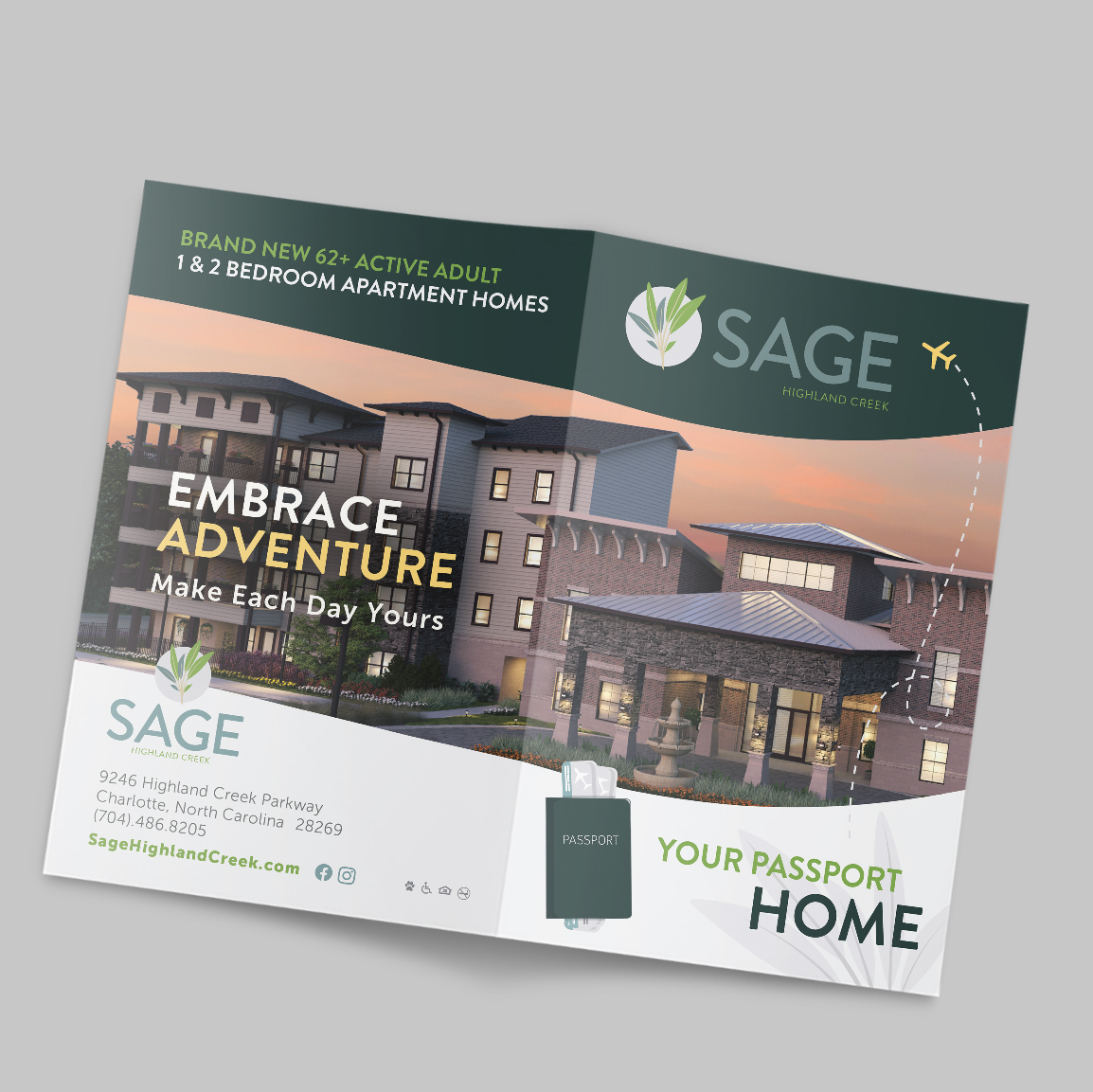 WHAT TO INCLUDE IN AN APARTMENT MARKETING BROCHURE
With so many styles to choose from, it can be hard to know where to start. But there are a few key elements that will make your brochure as successful as possible, no matter which style you choose.
Photos
They say a picture is worth a thousand words, so don't forget to include them throughout your brochure! Photos are the first thing a prospect will look at before even reading a single word on the page, so make sure to select your best images of both the community amenities and interior units.
Pro tip: Kitchens and pools are the most sought after photos when shopping for an apartment community. 
About
Share more about your community to give prospects a better sense of what it would be like to live there – from describing your top amenities to nearby location conveniences – paint a picture with words to entice the reader.
Amenities 
An apartment building isn't just about the unit itself—it's also about the shared amenities and social aspects. From community spaces like pools and dog parks to roof decks, be sure to emphasize all of the different areas available to residents to round out their lifestyle. Keep it simple and list out your top features!
Floor Plans
The size and layout of an apartment is often one of the biggest factors when prospects are looking to move. Make their lives easier by including the floor plan information right in the brochure. That way, they don't have to do any digging, and have all the info they need on hand.
Pro tip: If you have a lot of floor plan options, including them all in an apartment marketing could be overwhelming. Instead, try creating individual floor plan marketing sheets. That way, you can give prospects the exact floor plan they're interested in and tuck it into the brochure, so they have all the info they need in one place. 
Neighborhood
The neighborhood is just as important as the community itself. Consider adding a location map with favorite restaurants and shops to showcase all that the area has to offer in nearby proximity to their new home. 
If you're ready to make the leap and design an apartment marketing brochure that will wow prospects, give us a shout!
Talavera brochure featured under 'gatefold brochure' section is ©Fairfield Residential  |  Work executed by Stacey Feeney, owner of zipcode creative, while under creative direction and employment at Fairfield Residential.