Apartment Self-Guided Tours and Touchless Move-Ins That Will Have Prospects Lining Up to Lease
Covid-19 has disrupted our way of life, forcing us to adapt to great change. Future us will look back on these strange times and think, "social distancing was so 2020". But, not every change born from this madness will be just another distant repressed memory. Enter the new era of self-guided tours and touchless move-ins.
Technological enhancements necessitated by Covid-19 have been completely transformative for the apartment leasing process. And we all know that you don't have to twist the arm of a generation jacked up on technology innovations to convince them how virtual viewings and digital leasing benefits them. And persuading people to 'opt-in' for an unattended self-guided tour, well you had em' at self-guided.
So, how can you become an absolute boss at touchless move-ins and have prospects virtually lining up to rent your properties? Through mastering these 3 points below.
1. Cross-Platform Strategy
2. Virtual Touring and Unattended Self-Guided Tours
3. Digital Leasing
1. Cross-Platform Strategy
Blast your touchless move-in offerings left, right and center on all your platforms. Check out our previous post, Virtual Tours Are The New Way To Lease During Quarantine And Beyond for more specific details of how you can do just that. Keep in mind that it typically takes a consumer between 5-20 encounters with a brand before they commit to a sale. As such, your goal should be to reach your prospects in as many ways as possible and as often as possible.
Website
Your website is where the magic of conversion happens. All online and offline marketing efforts should be focused on how you can drive up the traffic to your website. Which is why it's so important to have a high quality, clean, easy to navigate website that shows beautiful images of the community, floorplans, information about the area/neighborhood, detailed amenity list, easy and clear way to schedule a tour and application to lease online.There's no point in offering different viewing and leasing options if your prospects have no idea they exist! And chances are, if it's not right in front of their face on your homepage, then they'll probably never know.
Social media
Statistics from Shareaholic shows that social media is now the #1 driver of referral traffic to websites and accounts for over 31% of the total traffic. The point: get a bitch'n social media strategy. In fact, we encourage you to design an entire strategy around how prospects can be move-in ready without ever taking off their pajamas or leaving the comforts of their couch. Which, just so happens to be something we specialize in. So, shoot us an email if you want more info on our social media management and content creation service OR follow our blog for future posts on social media strategies.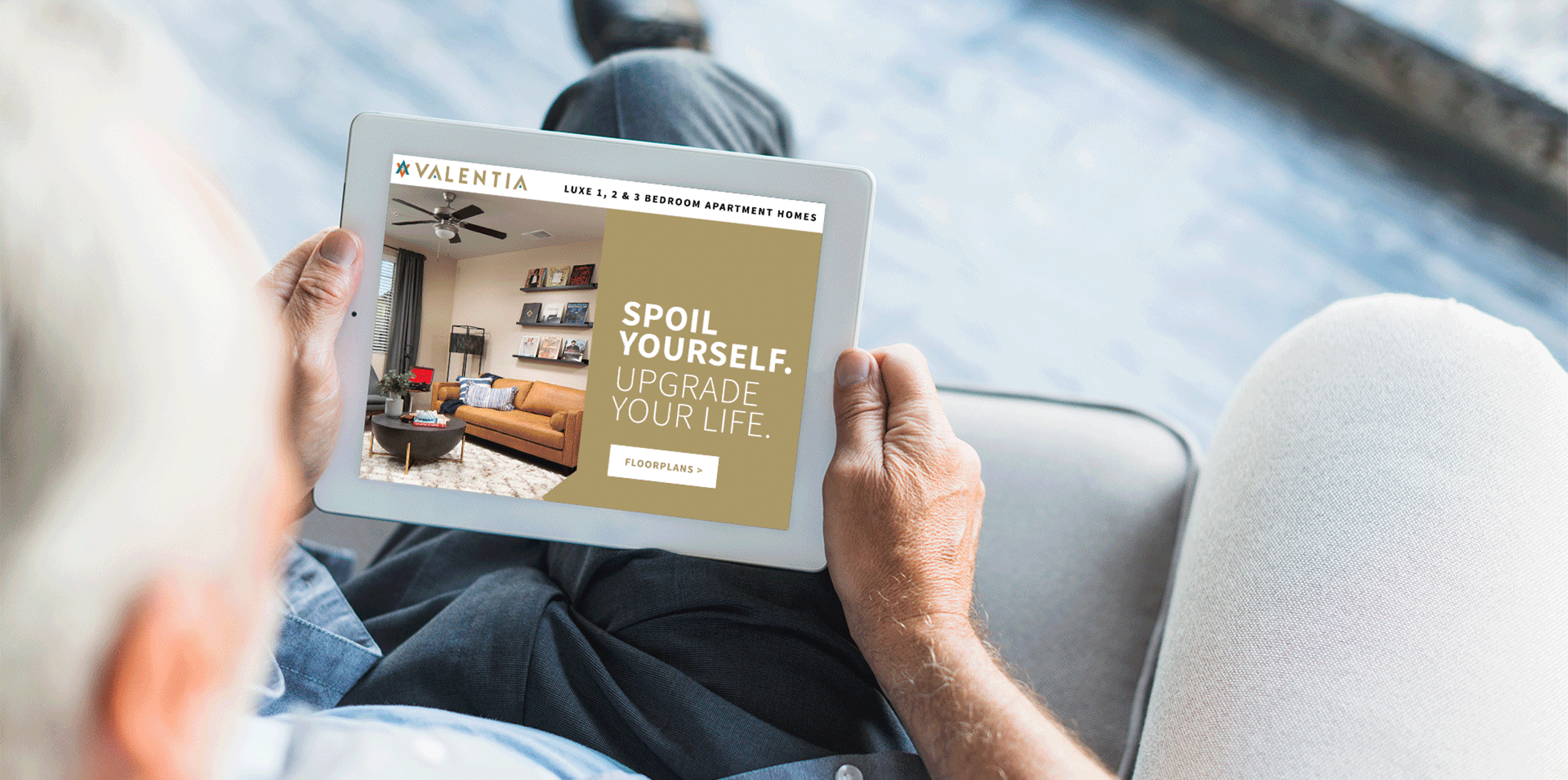 Emails
Emails are so 1990's. Wrong! Email marketing is a gold standard among marketers. You can increase conversion rates by the tons (okay maybe not tons, but close!) by simply sending well-written and designed emails (also something we offer). Even create an entire email campaign just for promoting your touchless move-in options. Here are a few ideas of what you can include in your emails to promote your touchless move-in strategy:
Get people excited to open your emails so they can see how awesome your touchless move-in process is by writing compelling subject lines to increase your open rates.

Insert a photo or short video clip of a virtual tour directly into the email.

Have direct links to all your viewing and leasing options.

Provide links to all your social platforms

Highlight your referral and new lease incentives. Emails that offer tangible value do much better.
Email marketing is a great way for you to bring all your goodies to the prospect, rather than them having to find it on their own. It will be much appreciated. A well-done email marketing campaign should be synonymous with increased conversion rates. Check out Email Conversion Rate 101: What You Should Know & 5 Ways to Boost Yours and 10 Email Marketing Stats You Need to Know in 2020 [Infographic] if you don't believe us!
CRM
We all have busy lives, which is why virtually leasing an apartment fits into our lifestyle so well. However, we are social creatures and we crave attention. Use your CRM (Customer Relationship Management) to get personal with your prospects even after they've toured solo.
Make yourself available at the whim of every prospect and resident to be there at their every beck and call. Even more so, you want to be there when they don't even know they want you there. Do the unexpected.
If a prospect reaches out with a question, answer timely and then follow up shortly after to offer assistance with other services related to their previous question.

If a prospect fills out an inquiry form, get back to them within the hour.

Offer live chats on your website. This is a great way to gather personal data, more specifically, prospect's email address. It's all about building that database! 

It's not always about new residents. In fact, a big part of your CRM strategy should be focused on resident retention. Showing your gratitude and appreciation for existing residents is just as important. Even little gestures, like having automated reminders linked to resident's birthdays. You can leave balloons and treats on their doorstep with a card reminding them how much you appreciate them being a part of the "family".

If you offer fitness classes or host community events, find a way to record which residents participate in which activities.This way you can customize email offerings related to the activities those specific residents are interested in.

Honestly, simply remembering their name and saying hi to them when you see them can go a long way too. 
You'll be surprised how much higher your retention rates will be with just a few minor enhancements to your CRM. All of which can be done contact-free.
2. Virtual Touring and Unattended Self-Guided Tours
Now for the meaty goodness you've all been waiting for. And not to sound redundant, but our last blog post was sort of a gem and a must-read in the way of offering guidance on virtual-touring. Go to  Virtual Tours Are The New Way To Lease During Quarantine And Beyond to get a very detailed guide on the different ways you should be offering virtual tours. For this post, we'll just give you a list of ways to offer virtual tours and open houses.
Virtual Tours
Facebook Live

Zoom

House Party

Skype

FaceTime

Pre-recorded videos available on your website and social media channels 
Self-Guided Tours
What we didn't talk about in our last post is unattended self-guided tours. And self-guided tours and touchless move-ins are going to be key during while we continue social distancing and even in a post-pandemic world. If this is the first time you're hearing about this concept, allow me to explain how it works.
First, you'll need to choose which company will supply you with the service, hardware and software needed to offer self-guided tours. Once you are up and running, the leasing office will have access to a smart lock access control. Prospects will need to fill out an online form, provide their credit card information for identity verification and security purposes, pass a screening check and then get approved. After getting approval, the prospect will be sent a one-time passcode, which gives them access to the unit they selected and only for during the time slot they've chosen. The leasing staff are alerted of the prospect's arrival and departure as well as when the doors are automatically locked when a prospect leaves.
Self-guided tours are an investment of your time and funds, the same way providing virtual tours are. But the results make it all worth the while. Data presented at NMHC's OpTech Conference & Exposition revealed that lease conversions increased by 86% with self-guided tours opposed to when a prospect is being escorted. In addition, 65% of attendees polled during the conference said they were already strategizing ways to adopt self-guided tours within the next two years or have already done so. You don't want to be left behind!
Self-guided tours not only further empower prospects to customize their apartment hunting experience, but it also increases the chances of them signing a lease because they had this option. It really comes down to engaging with prospects how they want to be engaged with. Give them the choice.
Todd Katler, CEO of Anyone Home, says, "62% of people who use a self-guided tour and subsequently lease, complete that tour within 60 minutes of their initial inquiry." Also, 20% of prospects that attend self-guided tours do so outside of regular office hours, which means you are opening up an option for the workforce who wouldn't otherwise be able to tour!
Now, this option does require prospects to turn off their Netflix and get off their couch, but I think everyone at this point is looking for an excuse to do this anyhow. Here is a list of top companies, in no particular order, that provide self-guided tours and touchless move-ins services:
For a breakdown of service features these companies offer, check out, AIM 2020 Webinar Recap: Automated Apartment Tours and Leasing (Part 1) and (Part 2).
 3. Digital Leasing Office
Offering digital lease signing is like adding a cherry on top of the prospect's touchless move-in experience. This option is also quite appealing to resident's looking to renew their lease and also may be an incentive. For a more exhaustive list to increase retention and sign renewals you should check out our post, The Top 10 Ways to Maintain Resident Retention and Sign Renewals During the Coronavirus Pandemic. 
The ability to sign leases digitally is not a new concept. In fact it's been trending for the past few years. But, with recent technology, it has become safer, easier and more robust. Also, just to bust a very misguided myth, digital signatures ARE legally binding and WILL hold up in a court of law. Just in case you're concerned. 
Just like weighing the features of competing self-guided tour providers, you'll need to do the same with digital signature services. Below is a list of the top 10 providers (outside of the obvious multifamily software platforms):
With so many choices, you really need to know what you're looking for in order to make an educated decision on which provider is best suited to your needs. 
Despite the magnitude of disruption to our lives Covid-19 has caused, there's some good to come from it after all –self-guided tours and touchless move-ins. Hope this post helps!