Email marketing: It can all feel a little mysterious. If measuring your "open rate" is about as scientific as you get, it's time to take a closer look at your email marketing, especially as it relates to your sales funnel. From leads to residents, it's important to know what to send when. (You don't want to send an introduction email to your current residents, right?) Make it easier on yourself by creating an email marketing funnel. Pick your funnel section, and start crafting an email that they'll want to open.
The first step is to outline your process. Then, set up some email templates and keep a focus on personalization. The more your prospective resident feels seen, the more likely they are to: 1) open the email; 2) take action; and 3) share the email.
And that's what we all want. Opened emails, follow-through, and brand advocacy. When you're able to create a pathway or journey for your leads from Point A to Point B, it means more leases signed (and renewed). Check out the tips we've created so you can create the ideal marketing email for each section of your funnel, whether you choose to automate, or set up triggered emails for your apartment community.
Emails for Awareness

THE AUDIENCE
This email is for the "I've never heard of you" crowd. The reader of the email might be someone who was referred to you, someone who found you through a web search, or maybe they're part of a prospect email list you've purchased with the hopes of converting a handful of leads. They may have also found you through a blog post or, even more likely these days: through social media.
WHAT TO SAY
In this email, you'll want to clearly introduce yourself. Include a link to your About page, and show off your best sides. Don't get too granular, but create a little intrigue. This is your opportunity to solidify your branding—the same branding that you'll need to keep consistent throughout your email marketing funnel. It's also a good time to give them an option to learn more about what you have to offer. Add in calls to action that lead to your website for a low-barrier-to-entry CTA: "Explore our floor plans" is an easy one.
FOR EXAMPLE
If you're having a grand opening, for example, this is a good time to let them know when you'll begin accepting lease applications, and what you have to offer, in terms of type of community, and number of bedrooms and bathrooms in your units.

Emails for Consideration

THE AUDIENCE
Emails for consideration are the natural next step after your awareness-building email. They are for the group of leads that might say "Oh, yeah, this community! I wonder what their apartments include." Now, you get to answer their questions that might have come up between the previous email and this one. Remind them who you are, what you offer, and make sure that you are clear about your differentiators. It's time to stand out. For more tips, check out our blog post on brand differentiation here.


WHAT TO SAY
When it comes to consideration, you'll have to add in some social proof. Bring in the reviews and the testimonials, and sprinkle in some of your biggest selling points. The point is to throw your hat in the ring, and show your community not only as a competitor, but as the best option for the lead reading your email.


FOR EXAMPLE
Outline your market, make your case, and show off the best that you have. Embed reviews, and place a few short-and-sweet testimonials to drive home your point. Place in a call to action to Learn More and make sure your landing page is chock-full of good stuff, like photos, floor plans, site maps, and all the things that attract residents the most.

Emails for Conversion

THE AUDIENCE
You're so close. It's time to close the deal. This email is for the crowd who's thinking "Okay, I really need to make a decision about where I'm going to live." They're ready to choose, and they should be choosing you.


WHAT TO SAY
Keep their attention. Put your amenities and biggest selling points front and center and make the calls to action (with the buttons and links) super clear. As you tell your lead more about you, make a point to also be learning about them and their needs. Use quick surveys, and offer up customer service contact information, too. At this point, they don't need more information, they need to get the lease application filled out and submitted to you, so they can make it official.


FOR EXAMPLE
Make it easy, and get them to follow through. When they click on "apply today" or "book a tour", make sure it goes straight to the page that they need. For more help with calls to action, read our blog on CTA best practices.

Emails for Loyalty
THE AUDIENCE
Why is your best friend your best friend? You spend time together. You know each other. You probably have their coffee order memorized. This is the goal with your email marketing funnel, too, especially when you get down to the loyalty aspect. You want to not only attract your residents, you also want to retain them. These emails are meant to make your residents say, "They know just what I'm thinking."


WHAT TO SAY
Send out emails about community events. Create a social media competition and build your email campaign around it. This portion of your email marketing funnel may last a little longer than the others, because you're building up your relationship through keeping the lines open. Your goal is also to stay front of mind. (Out of sight, out of mind—let's not even go there!)


FOR EXAMPLE
Keep bringing helpful information and every once in a while, toss out a lease special or a giveaway (free gift cards to local shops, for example) so that your email readers feel a little more like VIPs, getting the special deal.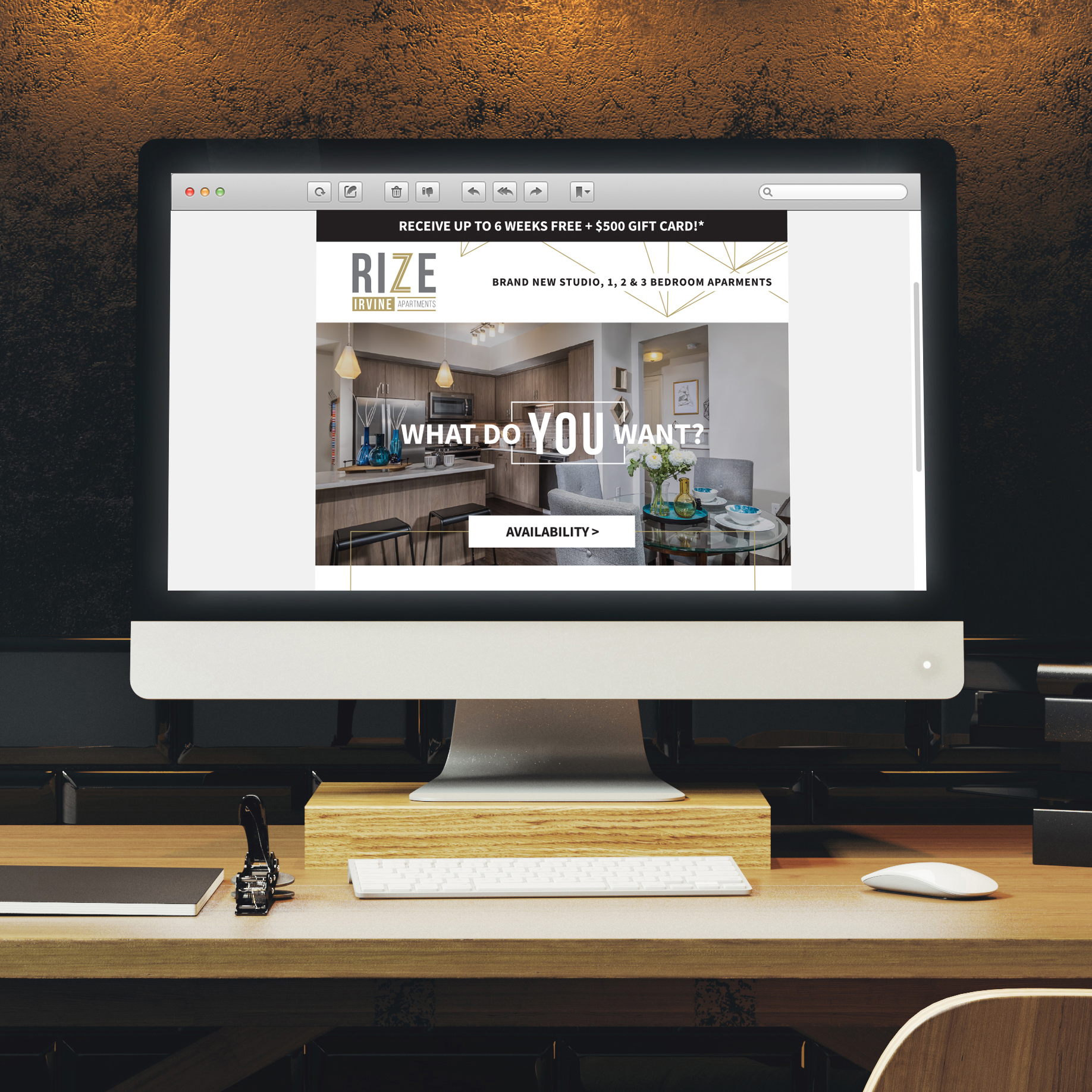 Emails for Advocacy

THE AUDIENCE
This email is for your resident who thinks "I wish all my friends were my neighbor. I wonder if they have lease openings." Well, luckily for you, you've built a relationship with your resident, and now it's time to take it to the next level: turning your loyal resident into a brand advocate. They love living in your community.
WHAT TO SAY
Jump in and let your happy resident know that you're accepting new lease applications. Give them extra "points" for sharing—offer a gift card or referral bonus for successful referrals. Encourage them to post on social media about their experience, or to share one of your posts—it's fun to reward social media advocates of your brand.


EXAMPLE
Try offering up a reward for leaving reviews. The reward can be a small gift card, a gift basket of local goodies, or just plain cash. Note: Offer this only to residents that you've confirmed are happy with your community. You can use a satisfaction survey prior to this offer, and streamline your reviews successfully. When you make the ask via email, you can see who's clicking on it, and use that info to follow up as needed.
Email marketing can feel complicated, but breaking it down into sections of the funnel will help you prioritize your methods and reach your audience with the right words and visuals. 
Still feeling overwhelmed? That's understandable. Reach out to zipcode creative to get our help with a custom-designed email blast (one or multiple) so we can take care of the pretty parts for you. If copywriting is where you're getting stuck, we can help with that, too! Bottom line: We make things pretty—whether it's words or design. Get in touch.
Images in this post are ©Fairfield Residential  |  Work executed by Stacey Feeney, owner of zipcode creative, while under creative direction and employment at Fairfield Residential.