Professional photography can help residents picture themselves in your community. Well past our childhood filled with picture books, we adults still tend to gravitate toward imagery—especially photography. Though it takes some time (and some money) professional photography can boost your brand and make your marketing materials shine. Read on for reasons to invest in professional photography for your apartment community's brand:

Photos Tell A Narrative
Anyone can tell you: pictures are worth a thousand words. And when you're looking to tell a story, make sure you're in control of the narrative. You can do this by knowing who your desired resident is, and telling the story they want to hear. For example, address any questions or problems they may have with apartment communities by taking photos to show the solutions. Show off the clean pool area, ideal for relaxing and cooling off during hot summer days. Show off the open concept living/dining, perfect for hosting their friends or family. Highlight the beautiful chef-grade kitchen for all the soup makers and sourdough bakers out there.
PRO-TIP
Find the story you want to tell, and work with your professional photographer to tell that story. Show them your mission, vision, and values along with your brand style guide or sheet so they can grasp your goals quickly and easily, and it will be translated across every piece of your brand through the photos they deliver.

Photography That Fits Your Brand
When it comes to selecting a photographer, ensure they have a style that can work with your brand. Dark and moody photos won't work with your light and bright brand. Likewise, airy and modern photos may not work for your traditional and luxurious brand. Your brand is so much more than just a logo and color palette, it's your photos and event flyers and everything in between that has your name associated with it. 
Before you hire a photographer, prepare a "shot list" so that expectations can be set and easily met.  Decide whether you want models to appear in the photos for a more lifestyle use-of-the-space approach, or make it purely architectural to emphasize the features and amenities. Think about the details when planning the day of the photoshoot: Would it be on-brand to arrange a vase of fresh flowers on the clubhouse kitchen island or stage a throw blanket on the unit couch that matches your brand colors?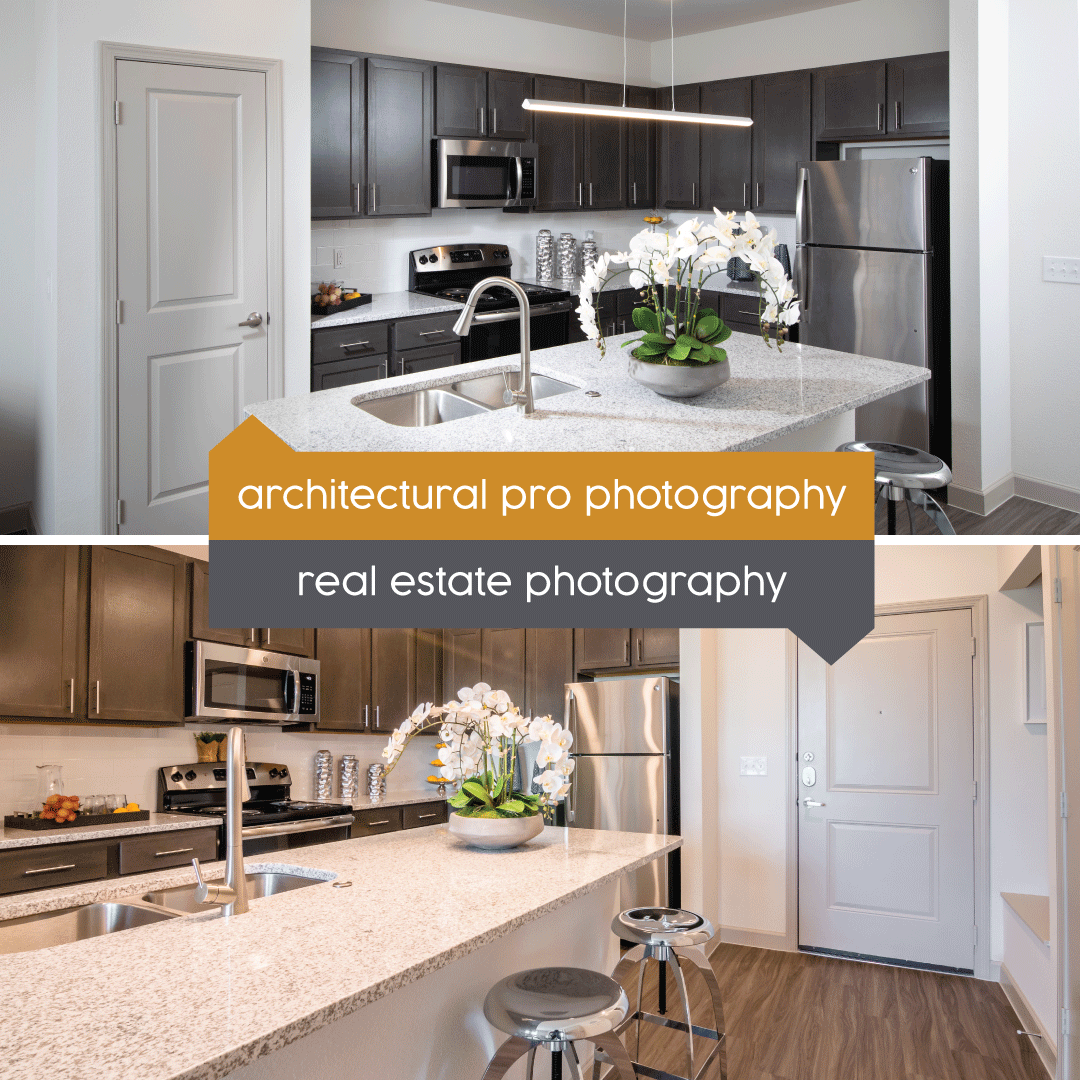 Good Photography Is Worth the Investment
YOU GET WHAT YOU PAY FOR
It's common in the apartment marketing business to hire real estate photographers. At first glance, it seems like a win-win, because they're cheap and fast. But you get what you pay for. Find someone who will take the time to understand your brand, and capture it right. Real estate photography is meant for single-family homes to go on the market, attract buyers, and sell quickly. It's a short shelf-life, which means the quality and longevity simply won't be there.

SHOOT FOR STAYING POWER
Professional photography for your multifamily community can remain relevant for 5-10 years, if it's done right (at least until the next remodel). This means you can use it all over the place in your marketing: online (websites and social media) and in-hand (flyers, brochures, postcards). Booking a professional is worth the investment, especially if you can hire a professional architectural photographer. The final product of your investment (beautiful photos) should be something you're proud to show off to your current and prospective residents.