Have you ever walked into someone's home during the holidays and felt that instant sense of coziness and belonging? There's a reason for that feeling. Your host has put time and energy into creating an inviting atmosphere that exudes warmth and peace. You can make your prospects feel right at home with these winter apartment staging tips and you'll be sure to make it worth their while!
Staging Outside
You don't need to have a curb to make your leasing office appealing to passersby. A simple welcome mat and a clean (repainted if necessary) door will put visitors at ease. Wintertime also often means muddy boots and wet shoes. Give your prospects a place to take off boots and shoes before they check out the model apartment. Have a chair or a bench nearby if possible–you don't want to have them struggle just before they come inside. If your model unit has a walk up, ensure any and all leaves and snow/ice are removed for a safe and clean entry to the front door.
Staging with Nature
Bring the outdoors in (but not too much)! Have a simple green wreath for the front door, and have a plant or two in bathrooms or in the kitchen. Having a little greenery inside the apartment can help it feel like an ideal living space. If you want to go more towards a holiday feel, create a simple centerpiece (with candles or ribbon) so your potential residents can imagine hosting holiday parties or feasts during Thanksgiving, Christmas, New Year's and any other holidays they volunteer to host. A bowl of oranges in the kitchen will be a nice pop of color, as well.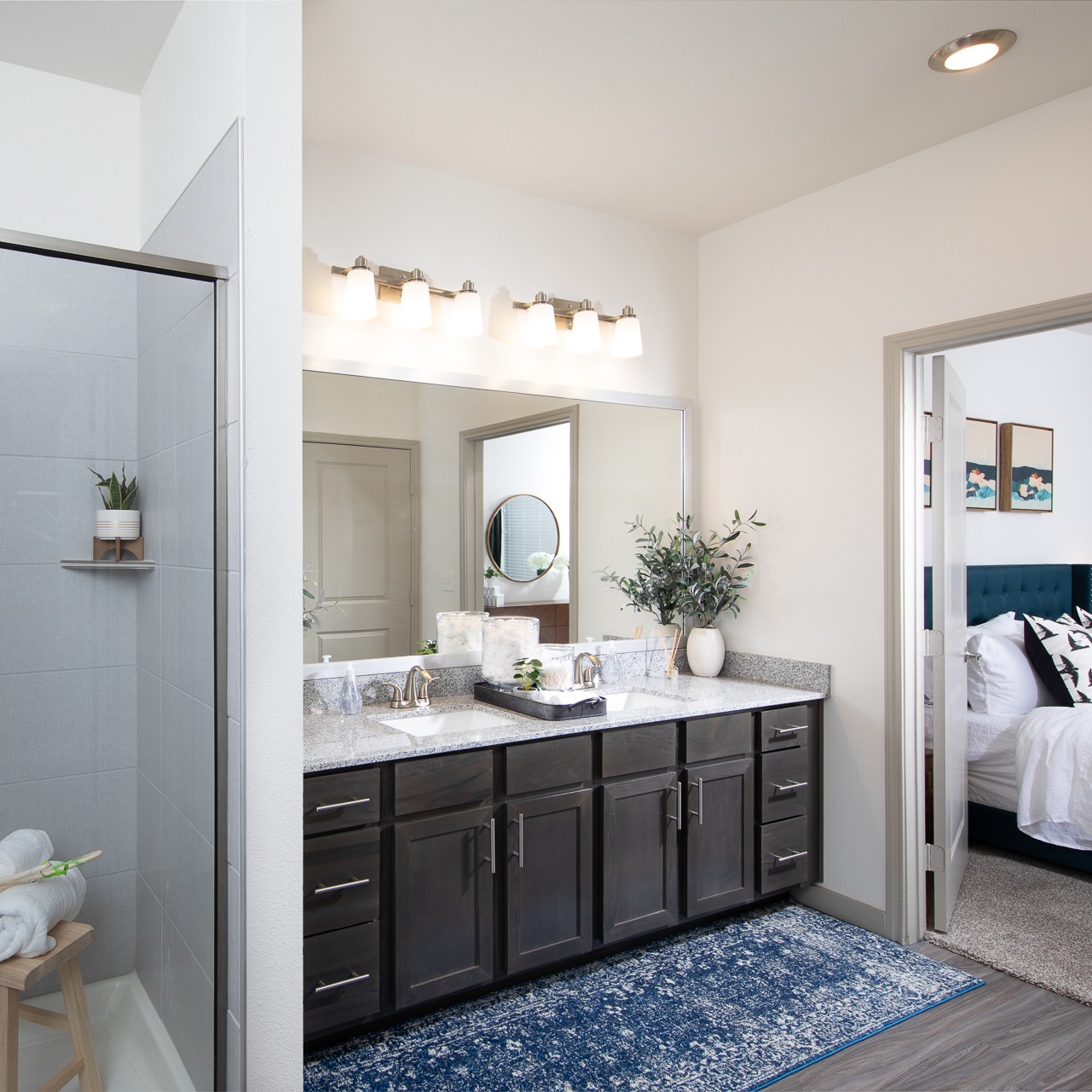 Staging with Light
The days are shorter and colder, which means you want as much light inside as possible. Turn on a variety of lights at varying heights throughout the apartment you're showing so your prospects feel comfortable walking through, not having to ask about turning lights on or off. Open up all the curtains and let any and all natural light in. Bonus points for open curtains in the night time, as they'll be able to see the home-y glow from the outside as they walk up. If you're able to point out the cozy glow from the apartment's windows before you get there, they'll picture themselves pointing holiday visitors to their home, too. Having your lights on a timer will help make this task a bit simpler, while still saving you a little cash on electricity.
Staging for Coziness
Over the last few years, we've all heard a new word from the Danish: hygge. (HOO-gah). The easiest way to make your space "hygge" is by lighting a candle. Make it cozy. Put warm blankets on the arms of the couch. Have a few pillows out. Turn up your thermostat a little higher to make sure no one is shivering when they step into your apartments. (This is another moment where timers can help–set the thermostat to turn up to the 70s when you're touring, and have it turn back down after your tour times are over.) If your apartments are appointed with a fireplace, have it on before the tour begins, and stage your living area around it, to fully captivate your prospective residents–in the winter, your fireplace should be the focal point. Create a hot drink or coffee bar with mugs and a selection of teas, hot chocolate, and hot cider to warm guests up and get them thinking about how nice the view is while they sip their fresh coffee. Appealing to the senses is an easy way to get your future residents on board.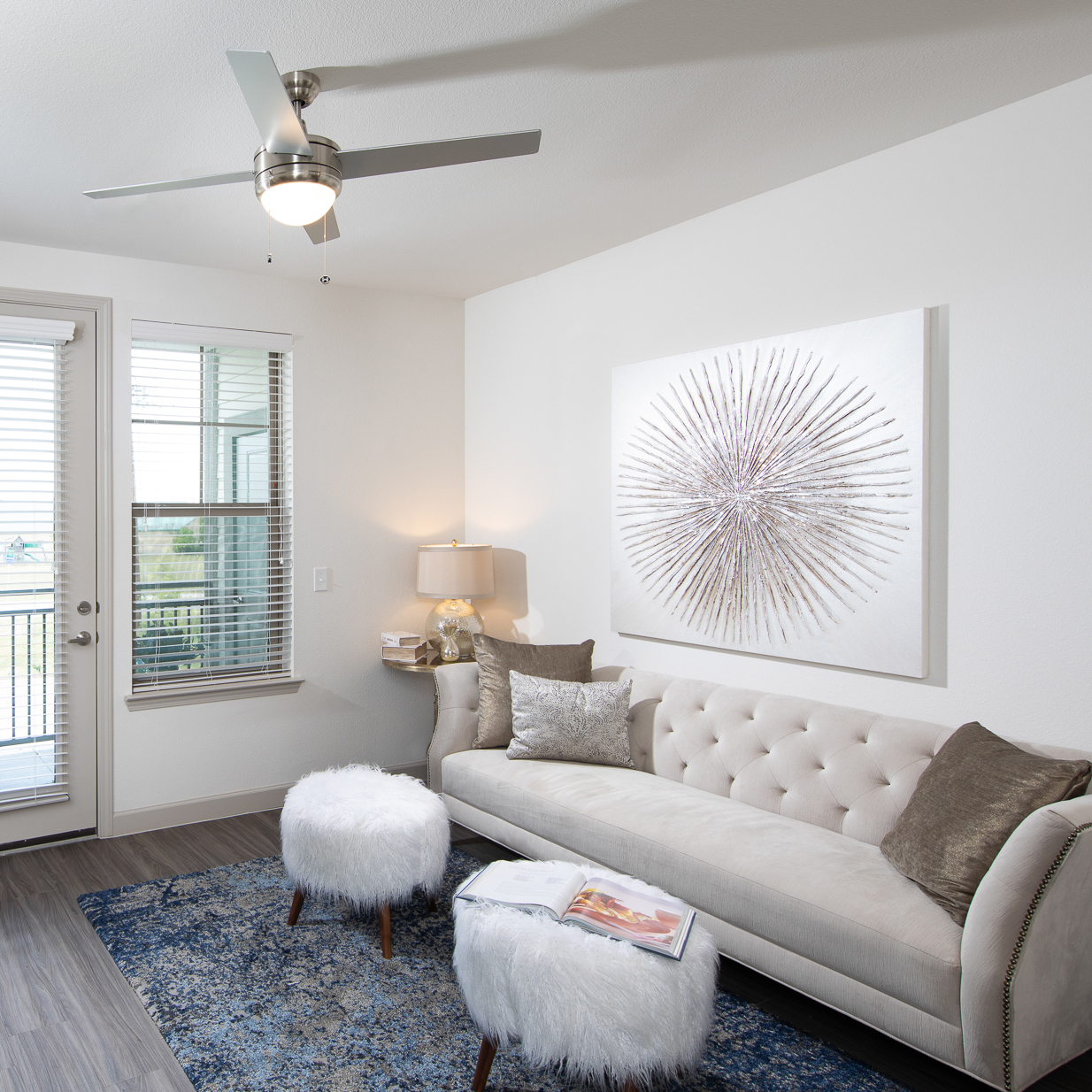 Staging with Color
Grey, beige, tan, and white are the most neutral colors to have in a space, and will therefore appeal to a broader audience. If you do choose to go with a pop of color, stay consistent. If you present a new color theme to your prospective residents every time they move to a new room, the apartment decor will have a lack of continuity throughout. Choose one or two colors that you'll have throughout the home to keep your future residents' attention as they tour your staged apartment. For wintertime, you can go with a deep navy and a mustard yellow, or a deep burgundy with plenty of greenery throughout. Whatever you choose, don't go overboard. 
Staging for the Holidays
This could be the space where your future residents host many happy Thanksgivings, warm Christmases, joyous New Years–help them envision it even better. Place bells on the doorknob, place a bunting around the porch. Battery-operated candles in the window make for a festive (and safe) way to welcome visitors, as well. If you're tempted to simmer spices on the stove or bake cookies, keep it real and keep it light. Just a little apple cider could be plenty to help create a warm atmosphere. Avoid fake smells with sprays and plug-in diffusers–many are sensitive to artificial scents–the real thing is so much better!
Staging for the Right Audience

You know better than anyone else who your ideal resident may be. If you are in a Jewish community or neighborhood, don't put up a Christmas tree. Likewise, don't put up Hanukkah decor if you know that your neighborhood primarily celebrates Christmas. The best method with the decor you choose, is to keep it festive, without being specific. Avoid Christmas trees, Santa, nativity scenes, and other religion- or culture-specific holiday decor. If you decorate with winter items, warm smells, and glowing lights, you'll be welcoming everyone.
The bottom line with winter apartment staging? Keep it simple, and keep it consistent, and you'll make it easy for future residents to imagine their holidays at home in your community.