People love their pets. In 2008 alone, more than 11 million searches were conducted on Apartments.com for apartments communities that allow dogs and cats. As the numbers of renters grow, that number has only increased. Nearly 90% of renters own pets—and of the 10% who don't, half reported planning to become a pet owner within the next year. As a result, finding pet friendly apartments is often at the top of prospective renters' wishlists. 
Show off your commitment to your residents' furry friends by strategically investing in pet-friendly amenities that make pet owners' lives easier and by dedicating resources to engaging and retaining your pet-owner community! 
Community Amenities for Pet Friendly Apartments
It's not enough to just allow renters to have pets. Creating community amenities and adding personalized touches that welcome furry friends is vital to ensuring pet owners feel right at home from the minute they step foot on the property. 
Dog Park or Dog Run
When you have a four-legged friend, getting them adequate exercise is a pivotal part of keeping them happy and healthy. Instead of forcing residents to go off-site for access to open spaces for dogs to play and run, add a dedicated dog park to your property. A secure, fenced-in area allows the dogs to play safely and also gives owners a place to socialize and build stronger community ties. Consider adding a drinking fountain, agility equipment, and a waste bag station so that owners have everything they need right at their fingertips.  
Dog Waste Bag Stations 
Keep your community clean for pet owners and non-pet owners alike with the addition of dog waste bag stations. These small stations make it easier to ensure that you won't have a property full of unwanted surprises. Place them in the areas around your community where dogs are most frequently taken out, especially near grassy or mulched areas that pups tend to love. That way, owners have the tools they need handy if they're unprepared or taken by surprise. 
If you're having issues at your community with residents not picking up after their pets, consider a service like PooPrints. It's a dirty job but someone has to do it, and your staff is far too busy to spend time picking it up. When signing their lease, make sure your pet owning residents are fully aware of PooPrints' services and understand any consequences of not picking up after their pup. That way, your community stays clean for pet owners and non-pet owners alike. 
Dog Wash Station
Instead of forcing residents to keep their pups clean in their sink or bathtub, make it simple for them to keep their four-legged friends squeaky clean. Add a dog wash station in a common area, or outside near the dog run, with a hose, tub, and bucket. This allows owners to wash their dogs off in a designated area, so you won't have mud or dirt tracked through the building and residents can keep their personal spaces cleaner—it's a win-win for everyone. 
Image Courtesy of Walter Wash.
Water Bowls & Treat Jars
Add a water bowl and treat jar to pet-friendly areas around your community, like the lobby or the resident lounge. That way, pups can always stay hydrated and enjoy a special snack, even when they're not home. This helps to make pets and their owners alike feel welcome to help foster a sense of community and belonging!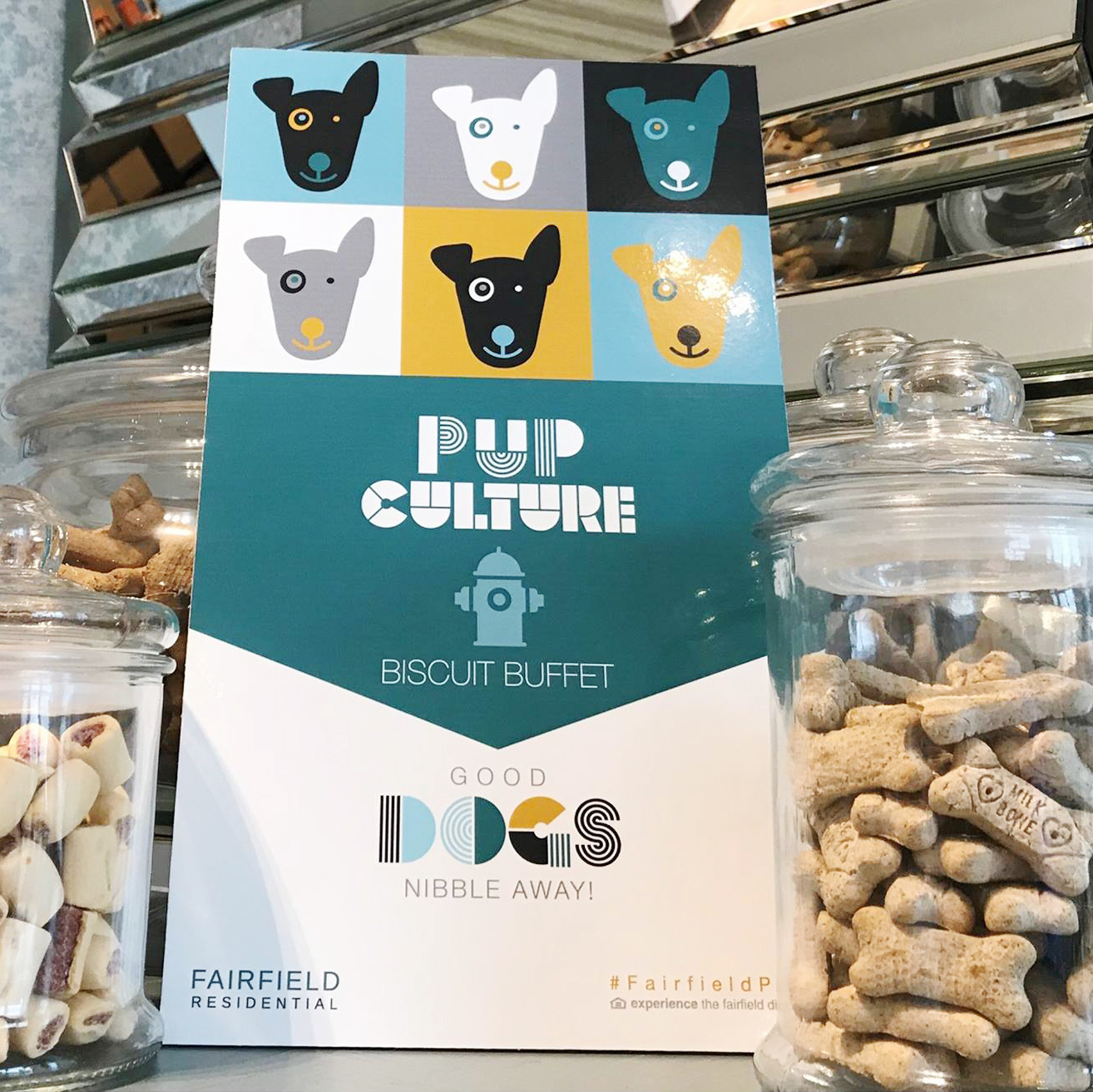 Pet Friendly Apartments Programming
Don't simply stop at amenities, create a program that will help engage your pet owners and develop a sense of community to keep them—and their four-legged friends—happy at your pet friendly apartments! 
Branded Swag
Create camaraderie among your pet owners by offering them branded swag that shows off your community. From dog poop bag holders and leashes to bandanas for the pups themselves, these small touches make pet owners feel included. Plus, it's also a smart way to market your community to other local dog-lovers.
Waive Pet Fees 
Incentivize prospective tenants to sign a lease by running leasing specials associated with their pets. Try waiving the monthly pet fee or deposit, or consider a referral program for existing tenants. That way, you can generate additional interest in your property and appeal to pet owners, all at the same time.
Special Pet Treats
To increase resident retention, consider sending special treats to tenants that have pets. Whether you do it for the holidays or around the time they're set to renew their lease, this shows your attention to detail and care for all of your residents to help keep them happy and engaged with your community.
Adoption Events
Go beyond helping your own residents and engage with your local neighborhood, too. Organize a pet adoption event with a local shelter. Bring adoptable pets on-site and promote the event throughout the surrounding areas to both showcase what you have to offer residents and also do some good for your neighborhood. Promote the event on-site with signage like table tents or banner stands, and use email marketing to notify your entire database. That way, you'll get more people to attend, which will lead to more adoptions!
Pet Photo Contests
Create a designated hashtag and have residents submit photos of their furry friends for a "Pet of the Month" feature or for holidays like Halloween or Christmas. That way, you can show off your adorable four-legged residents while also enticing more pet owners to lease at your pet friendly apartments. Consider awarding the monthly winner a small prize or piece of swag to up the stakes and increase engagement. Show off the winner through community signage in common spaces and elevators so they get the attention they deserve.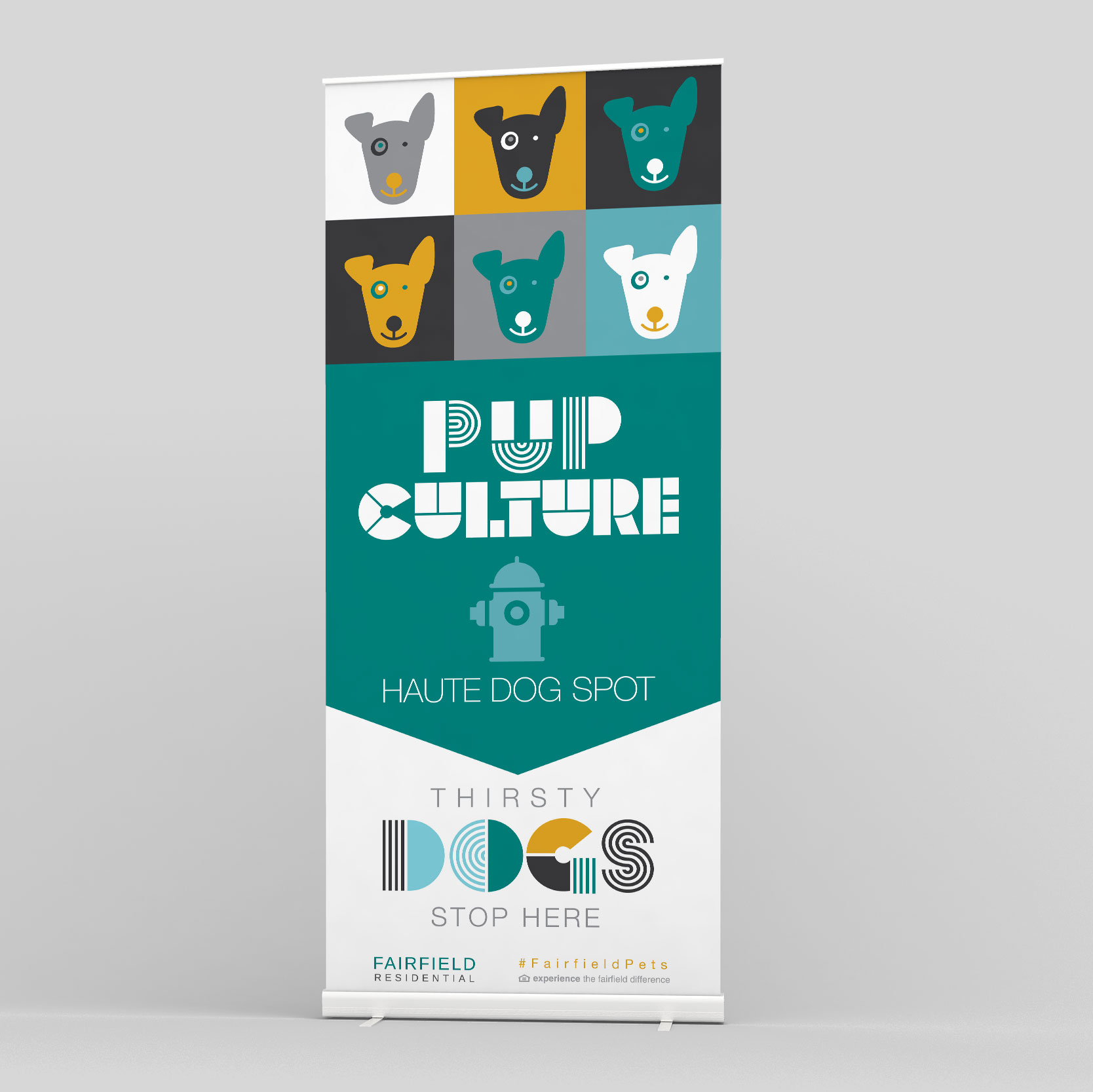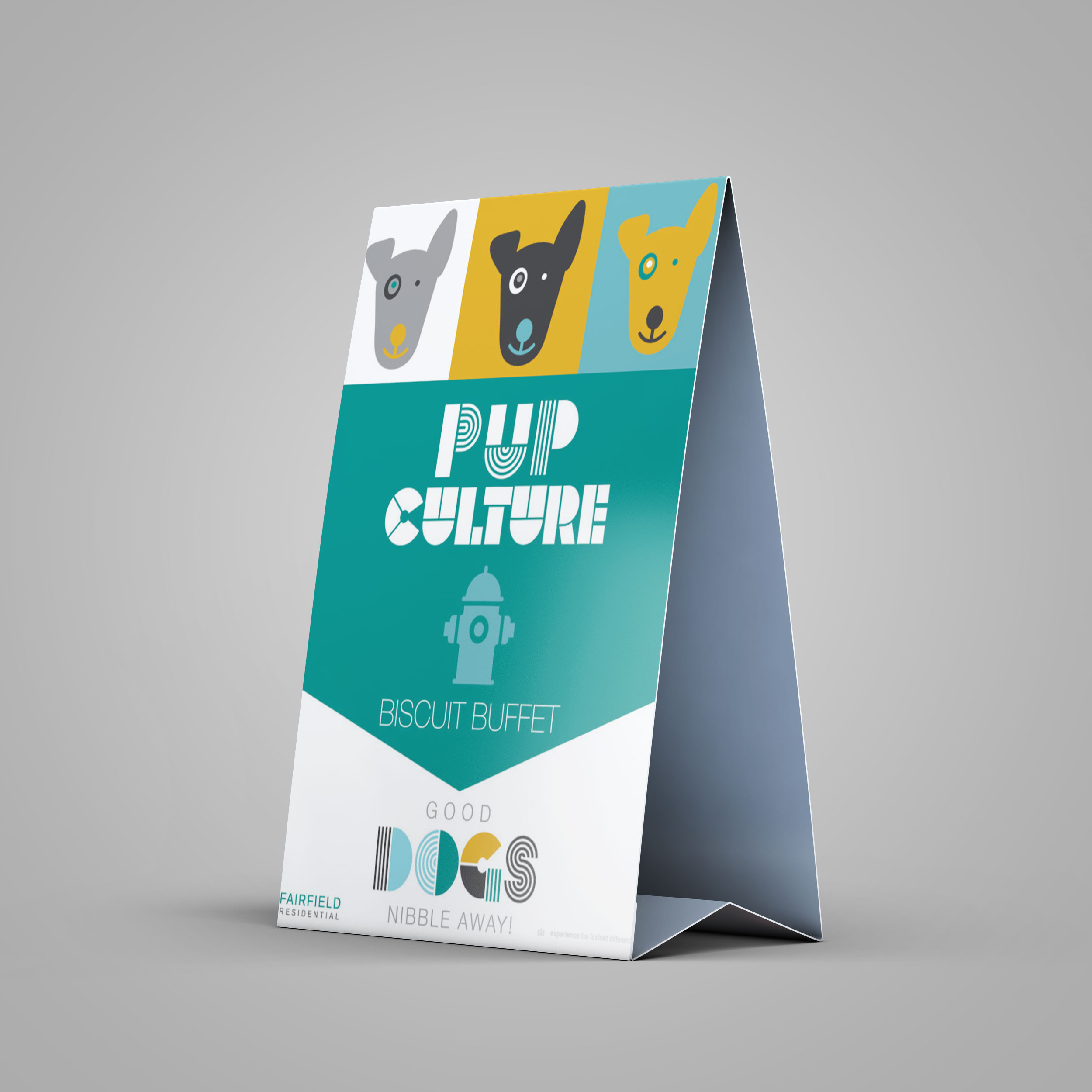 If you need help developing materials for your pet owners, defer to the experts. Creative marketing agencies can look at your community holistically and help you devise a strategy and a plan for promoting both your amenities and your community programming. Ready to take your multifamily marketing to the next level? Get in touch today! 
Pup Culture Images are ©Fairfield Residential  |  Work executed by Stacey Feeney, owner of zipcode creative, while under creative direction and employment at Fairfield Residential.