It's easier than ever to use QR codes to your advantage when it comes to marketing your apartment community. Sure, QR codes used to get a bad rap. You'd need to have a separate app on your phone to read the QR code in the little black and white square. No longer. Now, all you do is open your phone's camera app, hover over it, and click on the website that pops up. (Fun fact: QR stands for quick response—finally, the name matches the performance!)
QR codes are certainly helpful. But, how should one use them? You don't want to overwhelm every piece of your marketing collateral with QR codes, but they can definitely help your audience (whether future residents or candidates for new employees) take one step closer to your business goals. Instead of relying on your audience to navigate the website, jump around to different pages, and leave before completing a tour request, rental application, or employment inquiry, they'll get directed exactly where you want them to go, with a call to action placed in the text surrounding the QR code.
Top Ways to Use QR Codes in Apartment Marketing
Apply to Lease
Everyone's favorite. You want residents in your community. They want to get it done as quickly as possible, so they can start the process. Direct them to the application page and get the party started!

Apply for Employment
You've been looking for the perfect fit for leasing agents–friendly, outgoing, smart, but no one seems to be finding your employment application. Problem solved. With a QR code that goes directly to the employment application, you can help cut out the extra steps between the home page and career page.
Event RSVP/Sign-Up
You're designing a flyer for an upcoming resident event, and you want to know who's coming. Add a QR code to your flyer, then attendees can quickly scan and submit their RSVP–no big deal.
Schedule a Tour
QR codes are like a tour schedule sign up sheet–just waiting to fill your calendar. Allow prospective residents to book a slot in one simple click, and move on with their day, happily looking forward to taking a tour of your multifamily community!
Direct to a Web Link
QR codes can direct your viewers straight to the details they want, including floor plans, photos and availability of your units, and the amenities included in your community.
QR Code Placement that Converts
Sure, those all sound like great ways to use the QR code, but where should one actually put those QR codes? Make sure they're easily accessible, so that people can quickly hover over the QR code and get the info they need in a snap. Now that we have lightning-speed internet, we're impatient to get the info we want right away (so don't count on folks typing in your long website address–just use a QR code!)

Signage
Table Tents: Place a QR code on your table tents for visitors to scan while waiting for a tour to begin or waiting for their friend in the lobby.
Banner Stands: Tabletop + Floor – Are you preparing for an event to obtain more residents? If you're talking to one potential resident while another walks by, they can scan the QR code and come back around if they're interested—it's like you have a wingman!
Bootleg Signs: QR codes can reach far and wide if you put them on your bootleg signs on the edges of your property. Passersby can easily scan the code to find out more about what your units look like inside, or click to sign up for a tour without even walking into the office.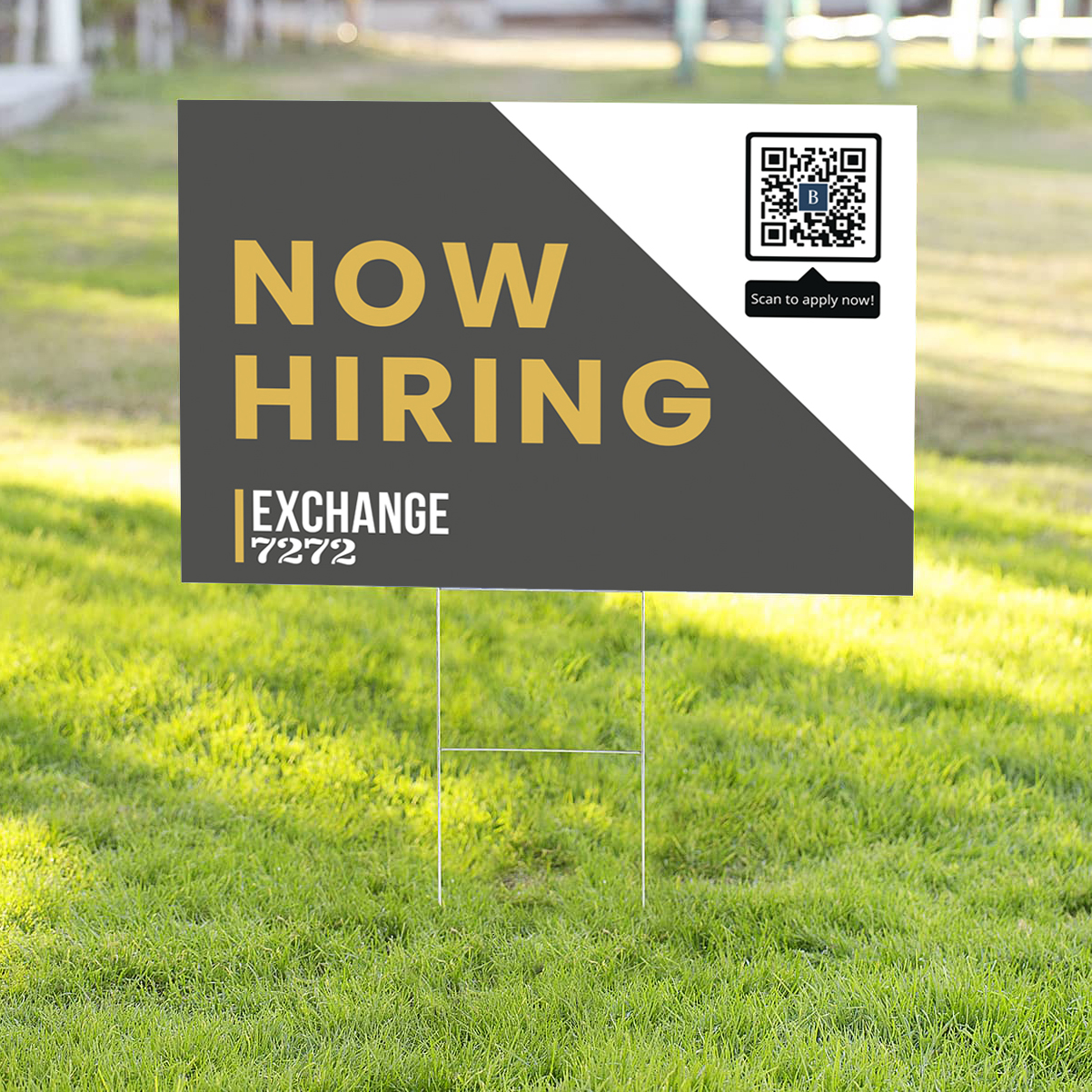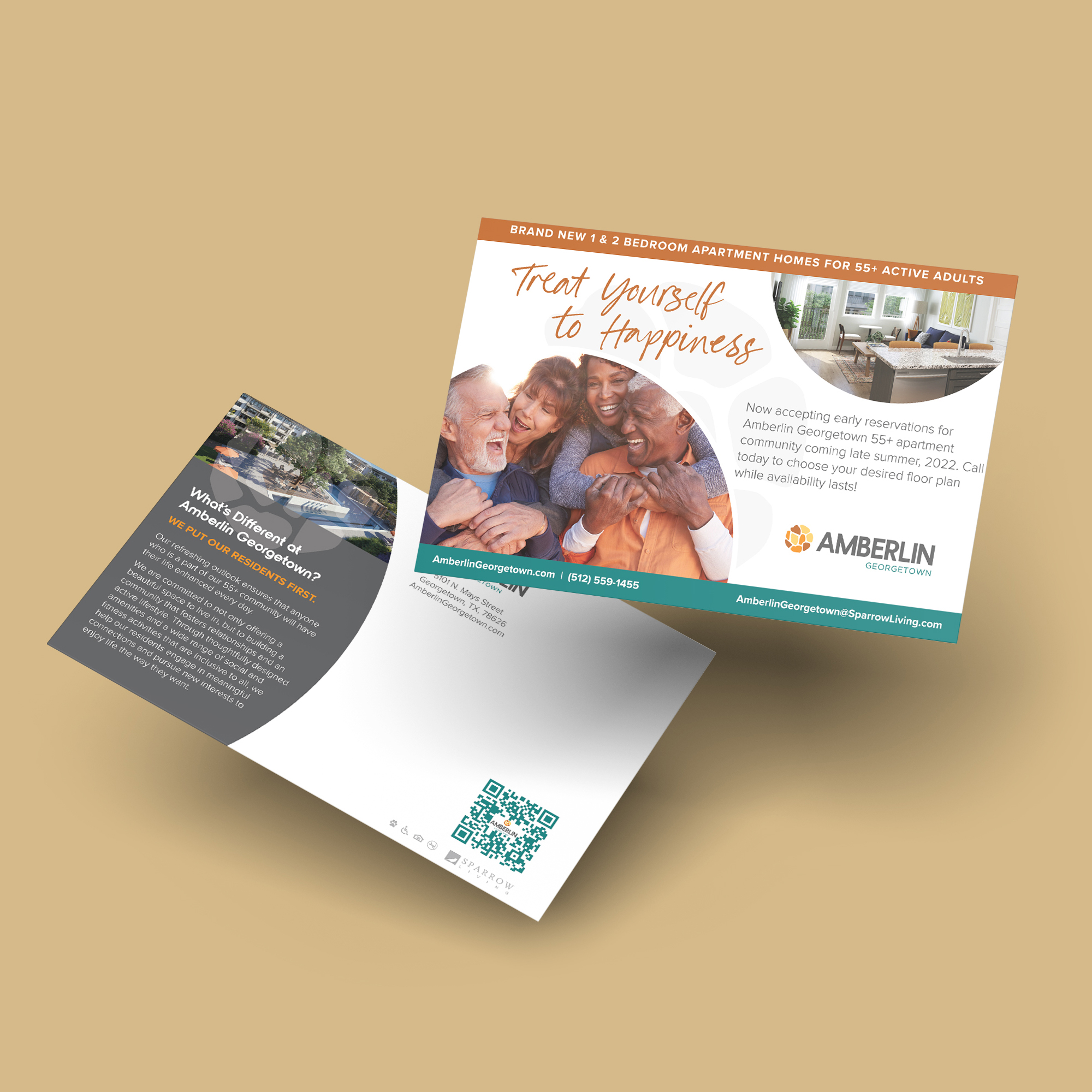 Print Collateral
Flyers: Let your QR codes give out all the fantastic details of your apartment community, so you can make the rest of your flyer attention-grabbing and lead-converting with text or photos.

Postcards: Sending out a stack of postcards to your current residents about upcoming events? Place a QR code on the postcard so they can easily RSVP.
Mailers: Mail has a fantastic open rate. Capitalize on it and place a QR code that goes to your available units or to schedule a tour.
Office Hours Signs
Just because the office is closed doesn't mean your business is! QR codes can give you a little business boost by capturing leads that come in your off-time, directing them to your unit photos and floor plans!
Final Tips for using QR codes in multifamily marketing:
Tell Me Why:

Indicate what the QR code is for! If you don't preface with: "Sign up for a tour today!" or something to that effect alongside your QR code, people are not going to scan it. If it's unlabeled, it's uninteresting.

Spice it Up:

See if you can put a nice frame around the QR code. They're not super attractive on their own, but you can place your logo near (or in the middle of) it with a nice coordinating frame. You can even change the color of the code to work with the rest of your design palette.

Don't Overdo It:

One QR code is enough for one marketing piece. More than that, and it starts to look like a robot parade. Choose the best single destination for your leads.

Call It Out:

Draw attention to it. Say "scan me" or "view our units" with an arrow, or something similar, with a large enough code to be noticed.

Check and Double-Check:

QR code doesn't work? Bummer. But it can be fixed. Make sure your codes work (i.e the background isn't shiny and presents enough contrast to be scanned) and go to the correct site before you put them

anywhere

on your materials
QR codes, if used properly, can be a huge benefit to marketing your apartment community, through driving leads exactly where you want them to go–even if you're not around. For more help in where to place them, and how to use them best, just ask zipcode creative!